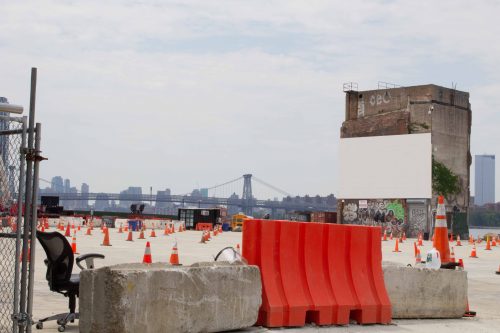 After opening to widespread acclaim from the media in mid-June, Skyline Drive-In NYC (1 Oak St.) has come under criticism for screening two movies that feature characters in yellow and black face.
The drive-in waterfront theater showed "Breakfast at Tiffany's," which features a white actor playing a character who embodies Asian stereotypes, on June 25. And on July 1, it presented "Trading Places," a film in which the main character wears black face.
Activists have released a petition demanding, among other requests, that the owner of Skyline Drive-In formally apologize for screening the two movies. It has more than 400 signatures.
"We submit that showing films with caricatures of POC as a form of entertainment is no longer acceptable in our society, as doing so perpetuates the harmful stereotypes against POC," wrote the petition's authors.
Sia Eliopoulos, a Prospect Heights resident and one of the campaign's principal organizers, considered going to Skyline Drive-In when it opened. However, when she saw that it was screening "Breakfast at Tiffany's," she was aghast. Continue reading →