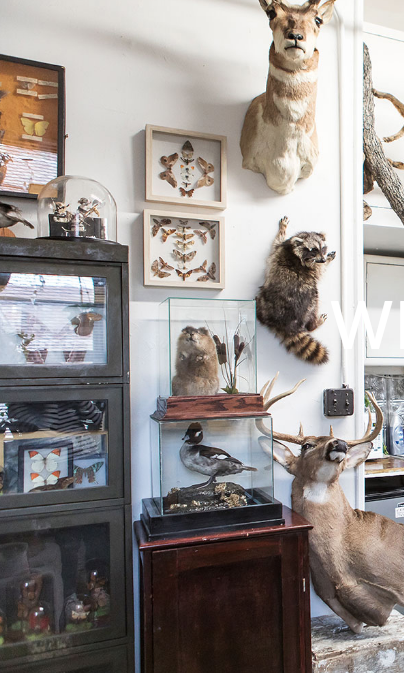 Greenpoint does not seem like a very likely place to have a tradition of taxidermy, but this is an area that is always full of surprises and it turns out that Greenpoint made a major contribution to taxidermy.
Taxidermy is defined as the art of preparing and preserving the skins of animals and of stuffing and mounting them in lifelike form. One of the finest practitioners of this art is Amber Maykut of Brooklyn Taxidermy (681 Morgan Avenue). Amber took lessons from George Dante and John Bollman, taxidermists for NYC's American Museum of Natural History and the Smithsonian.
At the American Museum of Natural History in New York City, Amber interned in the special exhibitions/fabrication department and studied the art of the diorama under Tom Doncourt. She also became certified in bird and mammal taxidermy. Brooklyn Taxidermy has been featured in the New York Times, The Guardian, The LA Times, VICE Magazine, National Geographic, New York Magazine, Brooklyn Magazine, Time Out NY, and many other publications, but Amber is neither the first nor the most famous, local taxidermist.
Greenpoint's legendary taxidermist John Rowley created many of the great dioramas at the American Museum of Natural History and wrote two of the most important texts about Taxidermy.
I came across Rowley's story in an old edition of the Brooklyn Daily Eagle's Old Timers Recollection series in which Greenpointer Alfred Preston in February of 1940 recalled growing up with Rowley. Information on Rowley's youth in Greenpoint is sketchy, but it appears he was born in 1862 and was largely self-educated.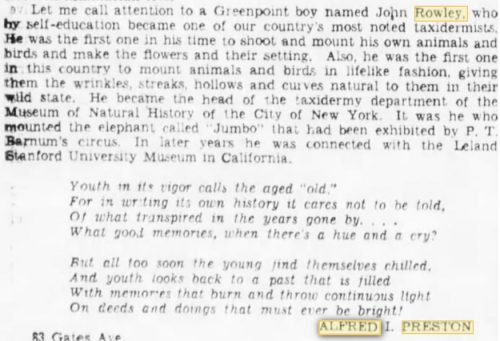 Taxidermy began to establish itself as a science and art form in the 1880s just as Rowley was reaching adulthood and New York's American Museum of Natural History was being founded. One can surmise that he visited the museum, which first opened in 1871, as a boy and like millions of other children, was fascinated by the animals he saw there, but the state of taxidermy was primitive then. Animals were simply stuffed and they were not exhibited in the lifelike dioramas that have enthralled millions of visitors for decades, so creating realistic dioramas was one of the important early tasks of the museum. Continue reading →