Autumn has crept in and I can't help but feel a little sad that day trips to the Rockaways have gone away, cafes have stowed away their outdoor seating and battened down the window hatches (except for Five Leaves because… well I don't really know why). The only way to fight this sadness is to replace these feelings with happy moments, happy feelings and most importantly, happy hours.
By embarking on a food-focused Greenpoint happy hour crawl I discovered my preferred method to get a little taste and a lot of feel out of a few places in one night. Here are some of my favorite omnivorous dishes in the hood during the typically alcohol-focused creation known as 'happy hour.'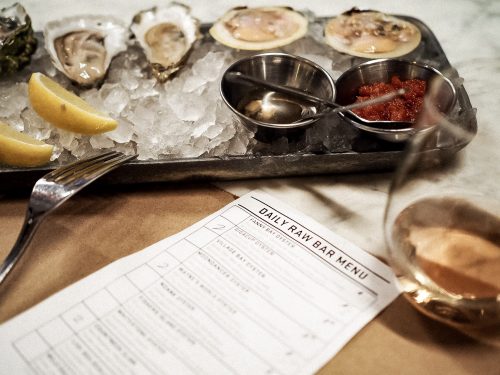 A fish counter with a penchant for service, this white-tiled silvery-scaled spot on Nassau Avenue offers oysters for $2, beer and cider for $5, wine and cava for $6, and a catch of the day menu a la carte. And it makes me want to remind you that one dollar oyster promotions are completely unsustainable. Places that are still offering this deal regularly are likely getting oysters from ecocidal farms; we could all do our part by not expecting and seeking dollar oysters.