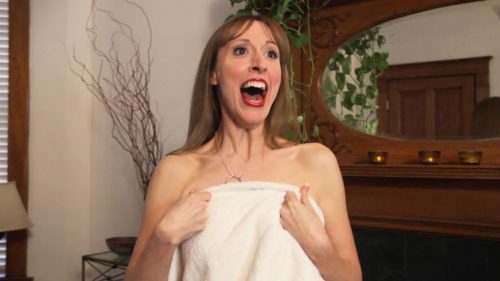 Would Northern Brooklyn be complete without its own film noir jewel box theater? Film Noir Cinema, located at 122 Meserole Avenue, is a hidden gem in Greenpoint that will soon screen the revival of INCALL, a coming-of-age film with a twist. In the film, After the accidental death of a massage client, and through a bizarre set of circumstances, a young masseur and a seductive cat burglar begin killing massage clients for profit. The film, previously a hit in the nabe, returns Thursday, June 21 at 9 PM.
We spoke with filmmaker Brock Riebe — a local artist who wrote, produced, directed, and starred in the movie — about his influences, social commentary in film, and how to succeed while working on a micro-budget.
Greenpointers: INCALL has had a few encore presentations at this point. What do you think audiences find most appealing about this film?
Brock Riebe: Many people can relate to the struggle of the lead character, Kasey, who has been playing by the "rules" in life but who still can't seem to make ends meet. In the film, Kasey begins questioning who exactly is making the "rules" and for whose benefit? As a result, he ends up going down a very dark path in which he, with the assistance of his cohort Marco, begins making his own rules for his own benefit. In this age of 21st century, greed-based global capitalism (an age in which many feel forced to play by "rules" that are not for their benefit, and that they had no say in making), many can relate to this theme and are asking similar questions. Continue reading →