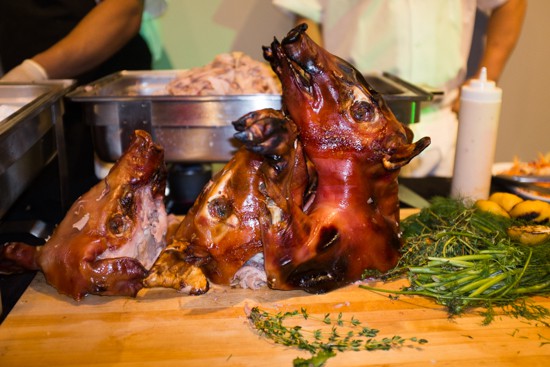 There's something about the segment of Driggs Avenue between N 10th and N 11th streets that attracts a different type of business from other blocks in the area.
First came Fushimi, a super-sized, super-shiny sushi joint that boasts the lingering spirit of a 90s lounge bar. Now, on the opposite side of the street there has sprung up a new mega-restaurant called MP Taverna, the fourth in a string of Greek establishments of the same name, spear-headed by celebrity chef Michael Psilakis.
Psilakis has become known for his appearances on a host of  cooking shows such as Iron Chef America and Ultimate Recipe Showdown, but his real kudos came about in 2008 when a Michelin star was awarded to Anthos, an upmarket restaurant he started in midtown Manhattan.
Seven years on and Psilakis is bringing his celebrated Greek food to Brooklyn. Less high-end than Anthos, MP Taverna aims to provide a contemporary take on the traditional Greek tavern, with a focus on mezze dishes that can be shared family style.
Next door to MP Taverna is Psilakis' next venture called 'The Hall Brooklyn', a giant events venue whose recent opening heralded a flashy party, complete with cordoned-off entrance line and bouncers with earpieces. Continue reading →
Category:

Eat & Drink, Reviews
Tags:

beer, Brooklyn, Cocktails, comedy, food and drink, Greek food, Greenpoint, live music, Michael Psilakis., MP Taverna, music venue, restaurant, The Hall Brooklyn, Williamsburg
1 Comment