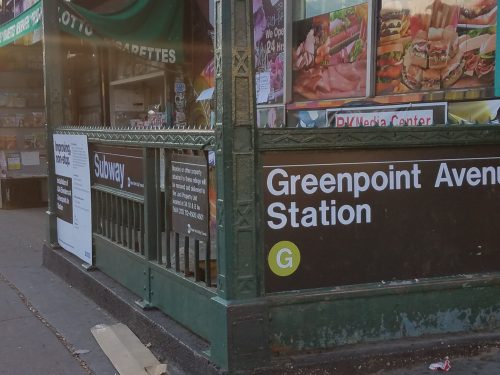 The Greenpoint Ave G train station will experience a series of service interruptions this winter starting Nov. 30, the MTA announced on Wednesday.
December will see the most interruptions for the Greenpoint Ave G train station, which is scheduled to close during weekends, and weeknights 9:45 p.m. – 5 a.m. from Dec. 3 through Dec. 24. Southbound G train service is also suspended from the station Nov. 30 through Dec. 31, but northbound trains will run.
The closures are due to the upcoming L train reconstruction and the ongoing $23.4 million MTA project to make the Greenpoint Avenue G subway station compliant with the Americans with Disabilities Act by installing three elevators, powered gates, and braille signage amongst other upgrades.
Construction on the elevators commenced in September and is estimated to wrap in spring 2021. The southern end of the station will have elevator access on the East side of Manhattan Avenue between Greenpoint Avenue and Kent Street. Two addition elevators will be installed for the north and south G train platforms. Continue reading →