Help Design the Future Kosciuszko Bridge Park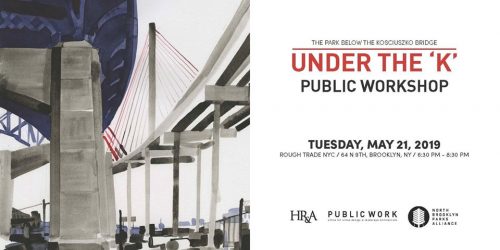 A visioning workshop that is open to the public to help plan the future park and green space under and around the new Kosciuszko Bridge will take place next week.
The "Under The K" public workshop is being hosted by the North Brooklyn Parks Alliance and the landscape architects Public Work on Tuesday, March 21, at Rough Trade (64 N 9 St.); registration is free.
NPBA was awarded a $100,000 grant via the Greenpoint Community Environmental Fund in 2018 to help convert to the area surrounding the Kosciuszko Bridge into a public park.The future park and green space will be approximately 7 acres in total and will include a waterfront lookout over Newtown Creek facing Manhattan and Queens, according to NBPA stewardship manager Katherine Thompson.
As far as construction progress on the bridge, the second span serving Brooklyn-bound vehicles (along with a 20-foot wide lane for bikers and pedestrians) is scheduled to open in September of this year.
Photos: The Kosciuszko Bridge's Second Span, Expected To Open In September https://t.co/JhsY5DDpjp pic.twitter.com/1veD7OZanU

— Gothamist (@Gothamist) May 7, 2019
The first span of the Kosciuszko Bridge opened in 2017 at a cost of over $550 million. In total, the bridge is expected to cost around $870 million and is the first NYC-constructed bridge since the Verrazzano Bridge opened in the 1960s.