Pizza Night, Tokyo x Brooklyn, The Hum, Call Your Mom Show — What's Happening, Greenpoint? (5/10–5/16)
There are more events in our weekly calendar! Submit Greenpoint events, too!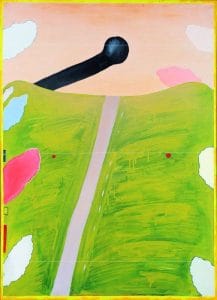 WEDNESDAY 5/10
*Green Roof Tour & Lecture on Newtown Creek Ecology @ Kingsland Wildflowers (520 Kingsland Avenue) 6pm, FREE, Enjoy the Kingsland Wildflowers green roof and learn about the benefits of green roofs for humans and wildlife, RSVP
♦ Stanisław Fijałkowski "A Young Man Plans a Voyage" @ Green Point Projects (27 Gem St) 7pm, FREE, An inaugural exhibition that examines the work of ninety-five years old Polish artist Stanislaw Fijalkowski, one of the pioneers of post-war lyrical abstraction derived from constructivism and surrealism, More info
# Remedi Food Dinner Club : Flower Moon @ Magick City (37 Box St) 8pm, $20-25, Full Moon Dinner honoring this month's Flower Moon in Scorpio! Everything served is plant-based, ethically sourced, local/organic, foraged whenevr poss, and prepared with love & ecological accountability! Buy tix
=) Drop the Mike @ Threes Brewery new Outpost (113 Franklin St) 8pm, FREE, Stand up comedy hosted by Kendra Cunningham, More info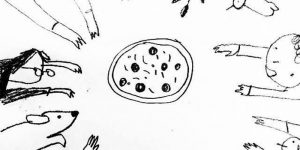 THURSDAY 5/11
# Pizza Night @ Archestratus Books + Foods (160 Huron St) 7pm, $18, Pick up to ten of twenty available toppings to create the personal pizza of your dreams! We have gluten-free crusts, too! RSVP
♫ The New Mastersounds (Night 1 of 3) @Brooklyn Bowl (61 Wythe Ave) 8pm, $15, Buy tix
* Full Moon in Scorpio Ceremony @ Narayana Integrative Center (191 Nassau Ave) 8pm, $20, Spring Cleaning for the Soul: The Full Moon this May is in Scorpio, ladies. Come transform collectively. Collective energy is most powerful, More info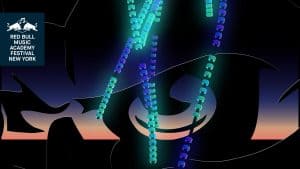 FRIDAY 5/12
* Drag Race with Karen from Finance! @ Brooklyn Bazaar (150 Greenpoint Ave) 7pm, Experience RuPaul's Drag Race Season 9 the way it was meant to be seen: surrounded by old-school arcade games while you drunkenly scramble to check off catchphrases on a bingo card nearing the end of its pitiful life, More info
$ OMNI Night: A Yoga & Pop-Up Shop @ 37 Greenpoint Ave, 4th Fl, 7pm, $34, An evening social focused on community, well-being, and sustainability. Yoga, wine, ethical shopping & charity, Buy tix
♫ GQOM: Durban → NYC – RBMA NYC @ Tender Trap (66 Greenpoint Ave) 10pm, South Africa's most exciting dance music scene comes to NYC. The sound of South Africa's latest dance music craze is rough, rugged and raw: a mutation of low-slung, lo-fi house music known as gqom, More info
♦ STELLA Opening Reception @ Doppelganger Projects, 67 Russell St 2nd Floor, 7-10pm, FREE. Opening reception featuring artists Alexander Barton, Thane Lund, Jess Rees, Rachel Mica Weiss. If you miss the opening, you can join them for an event series of readings and artist talks.  More info
♫ Night of JOY with Takaya x Yuji @ Black Flamingo (168 Borinquen Pl) 10pm, FREE, RSVP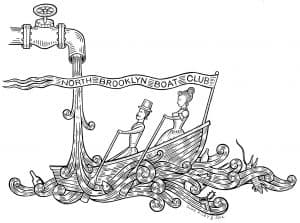 SATURDAY 5/13

* Common Sense: A Design Festival @ A/D/O (29 Norman Ave) 10am, $149, The second festival of the Design Academy, which will investigate designers' power to transform our world through the most fundamental human interfaces: texture and scent, sound and vision, More info
♫ Tokyo x Brooklyn @ Brooklyn Expo Center (72 Noble St) 12pm, $15-65, To bridge the gap between Brooklyn creativity, craftsmanship and Japanese pop culture. An incredible lineup of musicians, a delicious array of culinary favorites, innovative technology, artists, and performers, More info
$ Maimoun Pop-Up @ The Break (82 Dobbin St) 12pm, FREE, Sip & shop with The Break and Maimoun as they debut their spring & summer collections! Maimoun's focus is finding new and established artists who honor the traditional, slow and thoughtfully carried out process of creation and construction. The Break aims to bridge the runway and reality, sourcing second-hand clothing and accessories that represent a current aesthetic, More info
* North Brooklyn Boat Club Opening Day @ Broadway Stages Boat Yard (437 McGuinness Blvd) 4pm, FREE (with membership), Celebrate the opening of the 2017 paddling season with grilled goodies, cheap drinks, and fire, More info
#Ironclad Bourbon Tasting @ Duke's Liquor Box (170 Franklin St), 3-6pm, FREE, Ironclad Bourbon was named after the Civil War era ships that fought in the waters directly behind their Newport, VA  distillery—and the USS Monitor was built just blocks from where Duke's Liquor Box is located now. Taste their bourbon made from locally-sourced grains, For more info on free booze tastings subscribe to Duke's mailing list.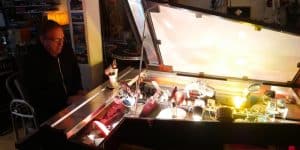 SUNDAY 5/14

♦♫ Inside Ken Butler's Workshop, Innovator of Experimental Musical Instruments @ Hybrid Visions (427 Manhattan Ave) 2pm, $29-35, Did you know you could create an instrument from a lawnmower attached to a gun? Or a violin from a hammer? Exclusive tour of Hybrid Visions studio, the experimental instrument workshop of artist and musician Ken Butler, who has been creating new and unique instruments out of everyday items for the past 30 years, Buy tix
♦ DIY Queen: Underground Documentaries of Sarah Jacobson @ UnionDocs (32 Union Ave) 7:30pm, $12, Born in Connecticut in 1971, and raised in New Jersey and Minneapolis, Sarah Jacobson became known as the "DIY Queen" of underground film in the 1990s and early 2000s, known for her tireless self-promotion and support for fellow filmmakers. UnionDocs is excited to present an evening dedicated to Jacobson's documentaries, Buy tix
* Twin Peaks Trivia @ Videology Bar & Cinema (308 Bedford Ave) 8pm, FREE,Because we all know you've been binge-watching Twin Peaks for the past 25 years, waiting for this moment, More info
♫ Call Your Mom Show @ Muchmore's (2 Havemeyer St) 8:45pm, $5, Bring your parental figures, or at least call them! Line up: Modern Diet, Nick Brenock Music, Strange Loops, Selva, More info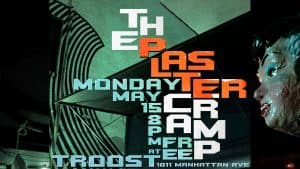 MONDAY 5/15

^ Max Winter presents EXES with Julie Buntin @ WORD (126 Franklin St) 7pm, FREE, "For Clay Blackall, a lifelong resident of Providence, Rhode Island, the place has become an obsession. Here live the only people who can explain what happened to his brother, Eli, whose suicide haunts this heartbreaking, hilarious novel-in-fragments…", More info
♫ The Hum @ Good Room (98 Meserole Ave) 7:30pm, $12, The Hum is a unique all-female music series with an emphasis on collaborations between musicians who have never played together before. Its goal is to unite and empower solidarity between the eclectic community of women who make music in New York City and beyond, Buy tix
♫ The Plaster Cramp @ TROOST (1011 Manhattan Ave) 8pm, FREE, Quixotic sonic foraging and loads of improv as we welcome Dj Shakey and her arsenal of future-perfect sounds to the phonic maelstrom of The Plaster Cramp. Come get weird with us! More info
TUESDAY 5/16

♫ Les Bonhommes, Jessica Moss, J.R. Bohannon @Union Pool (484 Union Ave), 2pm, $10, Buy tix
♫ Goats Grave, Zadismo Infernal, Necroscythe, Pisskvlt @ Saint Vitus (1120 Manhattan Ave), 7pm, FREE, More info
♫ Tara Jane O'Neil and MIKE BONES @ Union Pool (484 Union Ave), 8pm, $10, Buy tix
=) PRAYERZ @ Vital Joint (109 Meserole St), 8pm, $5-10, Comedy show hosted by Brian Fiddyment where comedians and artists perform multimedia pieces. The show is followed by a comedy open mic, where multimedia and non-traditional comedy pieces are encouraged and given preference. Amen, More info
* Greenpointers Pick
♫ Music
^ Literary Event
♦ Art Event
☺ Comedy Event
# Foodie Event
♥ Pheremones Likely