There are more events in our weekly calendar! Submit Greenpoint events, too!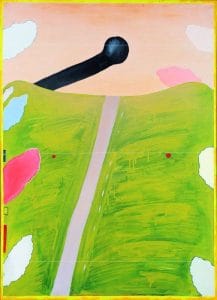 WEDNESDAY 5/10
*Green Roof Tour & Lecture on Newtown Creek Ecology @ Kingsland Wildflowers (520 Kingsland Avenue) 6pm, FREE, Enjoy the Kingsland Wildflowers green roof and learn about the benefits of green roofs for humans and wildlife, RSVP
♦ Stanisław Fijałkowski "A Young Man Plans a Voyage" @ Green Point Projects (27 Gem St) 7pm, FREE, An inaugural exhibition that examines the work of ninety-five years old Polish artist Stanislaw Fijalkowski, one of the pioneers of post-war lyrical abstraction derived from constructivism and surrealism, More info
# Remedi Food Dinner Club : Flower Moon @ Magick City (37 Box St) 8pm, $20-25, Full Moon Dinner honoring this month's Flower Moon in Scorpio! Everything served is plant-based, ethically sourced, local/organic, foraged whenevr poss, and prepared with love & ecological accountability! Buy tix
=) Drop the Mike @ Threes Brewery new Outpost (113 Franklin St) 8pm, FREE, Stand up comedy hosted by Kendra Cunningham, More info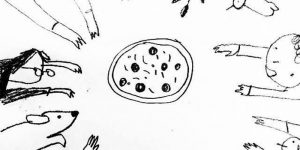 THURSDAY 5/11
# Pizza Night @ Archestratus Books + Foods (160 Huron St) 7pm, $18, Pick up to ten of twenty available toppings to create the personal pizza of your dreams! We have gluten-free crusts, too! RSVP
♫ The New Mastersounds (Night 1 of 3) @Brooklyn Bowl (61 Wythe Ave) 8pm, $15, Buy tix
* Full Moon in Scorpio Ceremony @ Narayana Integrative Center (191 Nassau Ave) 8pm, $20, Spring Cleaning for the Soul: The Full Moon this May is in Scorpio, ladies. Come transform collectively. Collective energy is most powerful, More info Continue reading →
Category:
What's Happening?
Tags:

A/D/O, black flamingo, Broadway Stages, brooklyn bazaar, Brooklyn Bowl, Brooklyn Expo Center, doppelganger projects, duke's liquor box, good room, green point projects, hybrid visions, Kingsland Wildflowers, Magick City, Muchmore's, Narayana Integrative Center, popup, Saint Vitus, tender trap, the break, threes, threes outpost, troost, union pool, UnionDocs, Videology, vital joint, Word
0 Comments