Greenpoint Community Cookbook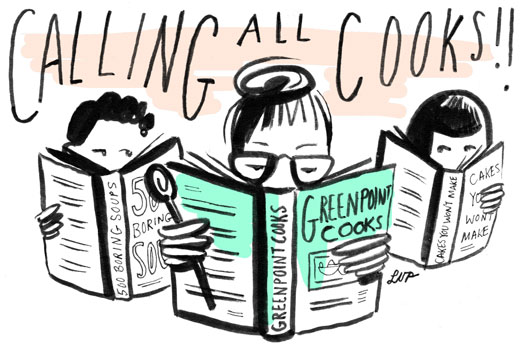 Ingredients for a Community Cookbook:
1. An awesome neighborhood (i.e. Greenpoint)
2. A variety of fun and delicious recipes — be them Italian, Polish, Nigerian, Israeli, Korean, Colombian, Japanese…the more the merrier!
3. Cooks that would like to share their favorite recipes with their neighbors
Greenpointers is compiling a community cookbook and — friends, neighbors, home cooks — we need your recipes! Send them in to us by January 1, 2014 through this easy form. The book will be available to purchase by late spring 2014. More info to come as the date draws nearer.
A few things to note:
1. PLEASE make sure that you edit and proofread your recipe before submitting.
2. Credit the recipe if you've pulled it from a favorite magazine, website, book, or blog.
3. What are head notes? Please include 20-30 words about the recipe (e.g. why you love it; who taught you this recipe; a neighborhood restaurant that inspired this recipe; the main ingredient it features; or whatever else you fancy to say).
Thank you, and happy cooking!
Reminder: Please submit your recipe here by Januray 1, 2014.