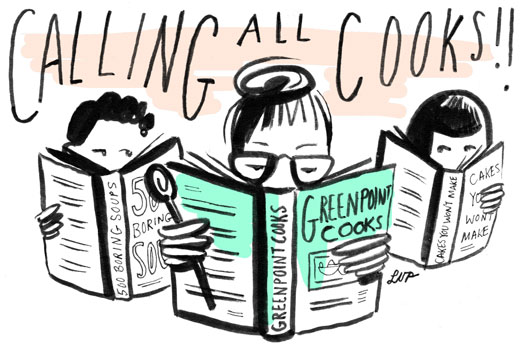 Ingredients for a Community Cookbook:
1. An awesome neighborhood (i.e. Greenpoint)
2. A variety of fun and delicious recipes — be them Italian, Polish, Nigerian, Israeli, Korean, Colombian, Japanese…the more the merrier!
3. Cooks that would like to share their favorite recipes with their neighbors
Greenpointers is compiling a community cookbook and — friends, neighbors, home cooks — we need your recipes! Send them in to us by January 1, 2014 through this easy form. The book will be available to purchase by late spring 2014. More info to come as the date draws nearer.
Category:

Community, Eat & Drink, News, Recipes
Tags:

community cookbook, cookbook, cooking, drink, Food, Greenpoint, greenpoint community cookbook, home cooking, home cooks, recipe, recipes
2 Comments