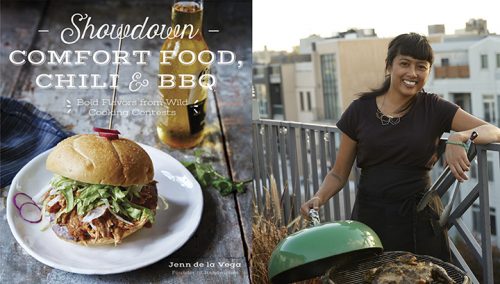 Baste it, taste it and tweak it again. Showdown is a cookbook about feeding the conversation along with the person.
This week, we sat down with Greenpointer and self-described "meat-head" Jenn de la Vega to talk about how competing (and winning) local competitions sparked Showdown, the cookbook.
GP: Hey Jenn! Tell us about Showdown.
De la Vega: Showdown is a compilation of 100 recipes I've entered into competitions. It's not only about the ones that won. I think the big part of the story is the failure and journey along the way, building a strange cooking career out of competition, creativity and personal challenges.
GP: Did you always want to be a chef?
Jenn breaks out into a big grin.
De la Vega: Actually, I never had intentions of being a chef. Continue reading →
Category:
Eat & Drink
Tags:

bbq, book, Brooklyn, chef, community, cookbook, Food, Greenpoint, jenn de la vega, recipes, Showdown
0 Comments