A Magical Evening, Stomps & Claps, LIC Immersion, Sicilian Supper, Body Maps, Pizza Party: What's Happening Greenpoint? (7/10-7/14)
(sponsored)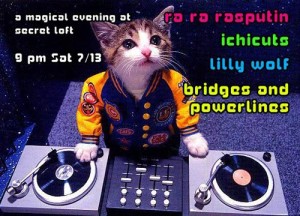 ♫ A Magical Evening @ Secret Loft (247. N. 10th St @ Union Ave) Sat. 7/13, 9pm, $10, 21+, Free Kegs & Performances by Lilly Wolf / Ra Ra Rasputin / Ichicuts / Bridges and Powerlines / F#@k the Rent (DJ) / Epic Light Show by Nick Foligno, RSVP
Receive What's Happening? via email!
WEDNESDAY 7/10
• Can't Hardly Wait @ Summer Screen (McCarren Park, Bedford Ave & No. 9th St) 6pm, Free, Movie plus Music by Jeffrey Lewis, a preview of Childrens Hospital, and Roma, a short film by David Altobelli
• Our Lady of Mount Carmel Feast Begins @ No. 8th St & Havemeyer, Free, Lifts, Rides, Food, Fun, Thru 7/21, More info
♦ The Art of the Novel @ Word (126 Franklin St) 7-8pm, Free, Agents and Novelists Discuss Writing and Selling, More info
♫ Kiss & Tell: Orange Crush @ Battery Harris (64 Frost St) 7pm, FREE, expect to hear a selection of super rare vintage vinyl records, dress your ORANGE summer best, orange crush frozen cocktails
♫ Journalism / Dog Water / Sofa Club @ Bog Snow (89 Varet St) 8pm, $7
THURSDAY 7/11
♦ Opening Reception SINGLE STREAM @ Museum of the Moving Image (36-01 35 Ave, Astoria) 6-8pm, FREE, SINGLE STREAM (2013), by Paweł Wojtasik, Toby Lee, and Ernst Karel, explores a materials recovery facility in Charlestown, Massachusetts where hundreds of tons of refuse are sorted and processed daily for recycling, More info
♦ Brooklyn Industries "Shoot: Brooklyn Summer" Photo Exhibition @ Brooklyn Industries (658 Manhattan Ave) 6:30-9:30pm, FREE, DJ Ben Steidel and cocktails
♫ Stomps & Claps & Snaps & Pops & Sniffs & Clicks & Ahhhh @ Reverse (28 Frost St) 7-9pm, an interactive exploration into the instrumental nature of humans and the traditions of rhythmic language, by artist and composer Matthew Matthew, light refreshments, More info
♫ Toro Y Moi / Shlohmo / Jonwayne @ House of Vans (25 Franklin St) 7pm, FREE
♫ Gregory Stovetop / C. Gibbs @ Manhattan Inn (632 Manhattan Ave.) 10pm, FREE
♫ Seasick Mama / Butchers and Bakers / Bugs in the Dark @ Union Pool (484 Union Ave) 10pm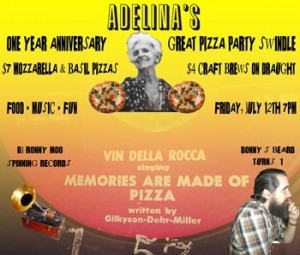 FRIDAY 7/12
♦ Archaic Soul @ the one well (165 Greenpoint Ave) 7-10pm, features collage from found materials, DIY printmaking, textiles and traditional media by Molly George, RSVP
# 1 Year Anniversary Pizza Party @ Adelina's (159 Greenpoint Ave) 7pm, $7 pizza, $4 beer, music by DJ Ronny Moo
# Viva La France! Bastille Day Celebration @ Greenpoint Shul (108 Noble St) 7-11pm, $18-20, Kabbalat Shabbat services followed by a French dinner and special guest speaker, Buy Tickets
♦ Body Maps @ Greenpoint Gallery (390 McGuinness Blvd.) 8pm-12am, the first solo show of one of the youngest emerging artists of Brooklyn, Christine Cha, RSVP
# Gluten Free Burger, Beer & Cider Night @ One Stop Beer Shop (134 Kingsland Ave) 8-11pm, Udi's Gluten Free, Strongbow Cider, Element Brewing & Draft
♫ The Echo-Friendly / Way Yes @ Glasslands (289 Kent Ave) 8pm, $10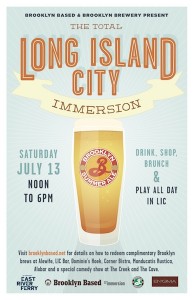 SATURDAY 7/13
* Long Island City Immersion @ Alewife (5-14 51st Ave.) or LIC Bar (45-58 Vernon Blvd.) noon-6pm, Pick up one of the 500 FREE Immersion cards for free Brooklyn Brewery, beer brunches, an excellent comedy show and an incentive to check out the LIC Flea, More info
# Surf's Up Vegan Pop-Up @ Pine Box Rock Shop (12 Grattan St., Bushwick) noon-6pm, Sand-free happy hour, snacks, and tanned babes galore, More info
☺ DanDillLions 3 The Incredi-Bull Show @ Red Star Bar (37 Greenpoint Ave) Free, comedy show full of bad animal puns but more importantly awesome standup comics, Lineup: Danny DelColle, Noah Savage, Will Winner, James Alexander, Amy Dalton, Gordon Baker-Bone, Rich McHale, hosted by Dillon Stevenson
♫ Sunset Guns / Sharkmuffin / The Planes @ Fort Useless (36 Ditmars St, Bushwick) 8pm
♫ Pipe Organ Concert by Russian Musician Sergey Kirillov @ St. Stan's (Driggs Ave and Humboldt St) 8-9:30pm, FREE
♫ "Solo Dame Indie Pop!" 2013 Latin Alternative Music Conference Showcase @ Cameo Gallery (96 No. 6th St) 8pm, Chile's ASTRO / Dominican Republic's Grand Resort / Colombia's La MiniTK del Miedo, RSVP
♫ A Magical Evening @ Secret Loft (247. N. 10th St @ Union Ave) 9pm, $10, 21+, Free Kegs & Performances by Lilly Wolf / Ra Ra Rasputin / Ichicuts / Bridges and Powerlines / F#@k the Rent (DJ) / Epic Light Show by Nick Foligno, RSVP
♫ Braille / Max Pearl / Volvox / John Barera @ Bossa Nova Civic Club (1271 Myrtle Ave., Bushwick) 10pm, Free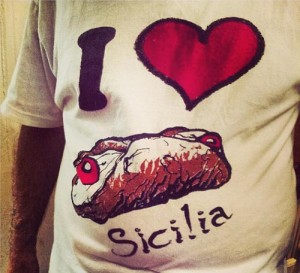 SUNDAY 7/14
# Community Potluck BBQ @ Java St Community Garden (59 Java St) 4-7pm, $10 suggested, bring your favorite dish to share (should feed four to six), RSVP
♫ Workman Song, Julia Berry, Oy Vey @ McGolrick Park Pavilion, Free, 6-7:30pm
# Sunday Supper #7 @ Greenpoint Church (136 Milton St) 7-9pm, $45, Big Fat (vegan) Sicilian Supper by Jen G, Benefits Greenpoint Soup Kitchen, Buy Tix
♫ One One / Celestial Shore @ Manhattan Inn (632 Manhattan Ave.) 9pm, FREE

There are more events in our weekly calendar. Submit Greenpoint events, too!
* Greenpointers' Pick
♫ Music
♥ Pheremones likely
♦ Art Event
☺ Comedy Event
# Foodie Event