Big Fat Sicilian (and Vegan) Sunday Supper #7 Menu Announced (7/14) – SOLD OUT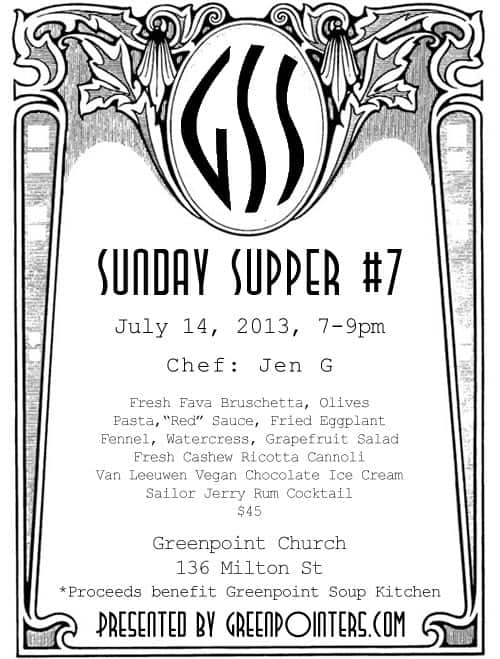 I am super excited to announce Sunday Supper #7, a Big Fat Sicilian and Vegan menu, prepared by yours truly at Greenpoint Church (136 Milton St) on Sunday July 14th, from 7-10pm. Proceeds benefit Greenpoint Soup Kitchen and Food Pantry! And we have Van Leeuwen Vegan Ice Cream and Sailor Jerry Rum cocktails, which we are preparing with a Sicilian blood orange twist!
This is the food I love and I am so excited to share it with you in order to benefit such an important cause in our community!
Menu:
Fresh Fava Bruschetta, Olives
Pasta,"Red" Sauce, Fried Eggplant
Fennel, Watercress, Grapefruit Salad
Fresh Cashew Ricotta Cannoli
Van Leeuwen Vegan Ice Cream
Sailor Jerry Rum "Blood Orange" Cocktails
$45
SOLD OUT