♥ Who's That Guy Next Door? 67 West St @ From the Source (69 West St) Friday (9/13) 3-6pm, FREE, Meet, mingle, and mix with the many creatives, artists, and entrepreneurs who work in 67  + 69 West St, Open to the public, drinks from Cliffon Dry Premium Cider, RSVP (Sponsored)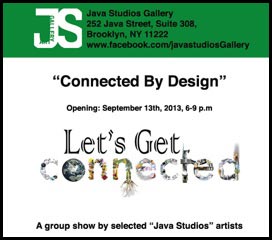 ♦ Connected by Design @ Java Studios Gallery (252 Java Street, Suite 308)  Opening Friday (9/13) 6-9pm, Group show featuring select Java Studio artists (Sponsored)
Receive What's Happening? via email!

There are more events in our weekly calendar. Submit Greenpoint events, too!

WEDNESDAY 9/11
 • Launch Party: This Is How You Say Goodbye @ WORD (126 Franklin St) 7-8pm, Local author Victoria Loustalot celebrates the launch of her memoir, chronicling her world travels in rememberence of her father, with signature cocktails inspired by the exotic locales in the book, RSVP
* ArtLab: On Repeat @ Over the Eight (594 Union Ave) 8pm, Conversation on repetition and the intersection of art and science, featuring Emily Dennis (a mosquito neurobiologist) and Lauren Schleider (a Brooklyn-based visual artist), RSVP, More Info
♥ BUST Trivia Night @ Matchless ( 557 Manhattan Ave) 8pm, FREE, Bust out those trivia skills (see what I did there?) and test your knowledge of ladies and lady-themed things, winner gets a $30 bar tab, RSVP
♫ RATHBORNE (Record release show!) / Bad Girlfriend / Isadora / The Sanctuaries / DJ Illyse Singer @ Glasslands (289 Kent Ave), RSVP
♫ Mountains / Date Palms / Plankton Wat / Good Willsmith @ Union Pool (484 Union Ave) 9pm, RSVP
THURSDAY 9/12
  ♫ Brooklyn Nine-Nine Advance Screening with Twin Sister / DJ Soul @ Brooklyn Bowl (61 Wythe Ave) 6pm, FREE, Screening of Nine-Nine (the new Andy Samberg cop show premiering this Fall), free bowling from 6-7pm and the first 500 guests get a free drink, RSVP
# Fine Spirits Tasting @ Duke's Liquor Box (170 Franklin St) 6-8pm, FREE, Taste fine whisky, vodka, and rum and learn what "un-chilled filtered highland single malt" actually means (additional tastings on Wed 9/11 and Fri 9/13 that include cheddar & chocolate and smoked salmon food pairings), More Info
♫ Wilder Maker / Belle Mare / Life Size Maps / Gondola @ Shea Stadium (20 Meadow St, Bushwick) 8pm, Price TBD, More Info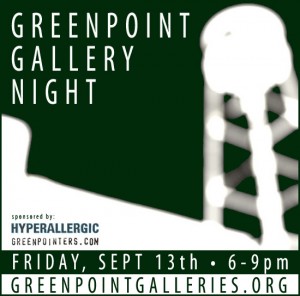 FRIDAY 9/13
♦ Greenpoint Gallery Night @ see map! 6-9pm, FREE, Spend the evening exploring opening shows at 22 participating neighborhood galleries (like this feminist art collective showcase and these illustrations of people dressed as animals) before heading to the after party at Coco66 (66 Greenpoint Ave), More Info
* Greenpoint NOW @ The Yard (33 Nassau Ave) 6-9pm, FREE, Group show featuring artwork made in Greenpoint by local artists representing the clash of culture, style, and NOW-NESS of our ever-changing neighborhood, presented by Ugly Art Room, RSVP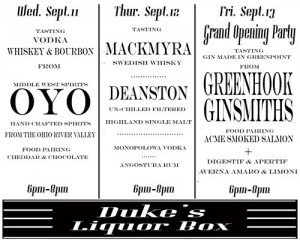 * Grand Opening @ Duke's Liquor Box (170 Franklin St) 6-8pm, featuring Greenpoint Gin Hook Gin with Acme Smoked Salmon and more!
♦  NOMADIQUE Presents: These Rythmic Seasons @ the Metropolitan Building (44-01 11th St, LIC) 7pm, FREE, If you're hungry for more after scouring every gallery in Greenpoint, head over the bridge to LIC to check out this one-night-only exhibition of photography, film, and live performaces that will explore the phenomena of growth and aging, RSVP
♥ Terminator 2 @ Nitehawk (136 Metropolitan Ave) 12am, $13, Watch Arnold save the future as a futureistic cyborg on the big screen, and COME WITH ME IF YOU WANT TO LIVE, More Info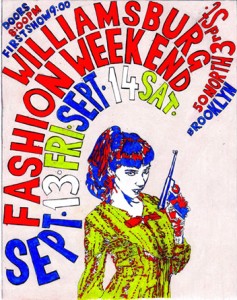 SATURDAY 9/14
• LIC Flea & Food @ 5-25 46th Ave LIC, 10am-5pm, FREE, Come to Queens for a huge outdoor market with over 70 vendors, vintage clothing, furniture, antiques, collectibles, jewelry, accessories, sweets, treats and delicious food. Open every Saturday and Sunday from 10am-6pm. Take the ferry, ride your bike or take a walk, More info
 • City Harvest Food Drive @ Atlas Obscura (61 Greenpoint Ave, Suite 302) 11am-5pm, FREE, Feed hungry New Yorkers by donating City Harvest's most needed items (canned goods, mac & cheese, and peanut butter)
# Taste Talks @ various venues in North Brooklyn, 11am-10pm, $10-35, the first annual foodie extravaganza from the creators of Northside begins with a pancake breakfast at Brooklyn Bowl and continues with conferences throughout the day on a variety of food-related topics such as Foraging and Food Photography, More Info
# Dive In! Vegan Shop-Up @ Pine Box Rock Shop (12 Grattan St, Bushwick) 12-6pm, Enjoy tasty delights (ranging from Ethiopian brunch to ice cream sandwiches), jewlery, and clothing from 30+ vegan vendors, More Info
• Cardboard Tube Fighting League @ McCarren Park (N12th and Bedford) 2-5pm, FREE, Wish you could wield a sword like the dudes in Game of Thrones? Have no fear, you can this weekend…with cardboard tubes, More Info
♦ Jamian Juliano-Villani: Me, Myself, and Jah @ Rawson Projects (223 Franklin St) 6-8pm, first solo exhibition from Juliano-Villani, whose bold, splashy paintings are just plain fun, RSVP
♦ Williamsburg Fashion Weekend @ Villain (50 N 3rd St) 8pm doors/9pm show, Art meets fashion for Williamsburg's answer to mainstream fashion week, featuring up-and-coming designers who push the boundaries of design and production, with musical performances from Courtship Ritual/ DANKE//SWORD / Ideal Orkestra (afterparty at Wild Kingdom), More Info
♥ The Devil's Bedroom Concert Series: The Prophet @  M'Su Diable (2 Kingsland Ave) 8:30pm,  $12, A night of fortune-telling, featuring music by Youngman Grand / Sons of an Illustrious Father / Friend Roulette with projections, dance performances, tarot card readings, free food, and a donation bar (woah), RSVP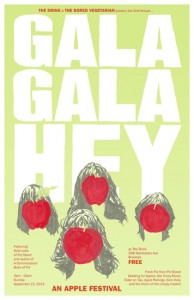 SUNDAY 9/15
# The 2nd Annual Gala Gala Hey! An Apple Festival @ The Drink (228 Manhattan Ave) 2-10pm, pie fans rejoice for this day-long celebration of sweet apple pie, featuring fresh baked slices from Pie Stand, bobbing for apples, old timey music, cider on tap, and corn hole, More Info
# Brew n' Chew @ Diamond Bar (43 Franklin St) 3-5pm, $20, 5 home brewer/ foodie teams battle for your vote, proceeds donated to charity, Buy Tix
# Farm Dinner @ North Brooklyn Farms (329 Kent Ave) 7-10pm, $40, 3 Course + Cocktails Farm to Table Supper Club, More info
♦ Williamsburg Fashion Weekend @ Villain (50 N 3rd St) 8pm doors/9pm show, Day 2 of runway shows, live music, and theatrical antics
♫ Doe Paoro / Dark Rooms / Sleepers Work @ Glasslands (289 Kent) 8:30pm, $10, BUY TIX
MONDAY 9/16  
♫ Elvis Costello / The Roots @ Brooklyn Bowl (61 Wythe Ave) 9pm, $40, BUY TIX
♫ Those Mockingbirds / Ionia / Spirit Animal / Your Skull My Closet @ Knitting Factory (361 Metropolitan Ave) 8pm, $10 BUY TIX
* Greenpointers' Pick
♫ Music
♥ Pheremones likely
♦ Art Event
☺Comedy Event
# Foodie Event
Category:

Events, What's Happening?
Tags:

art exhibitions, art openings, art shows, brooklyn art, brooklyn music, Concerts, events, free events, greenpoint art, Greenpoint Events, greenpoint gallery night, greenpoint music, Music, music events, parties, screenings, shows, supper clubs, weekend, williamsburg events
0 Comments