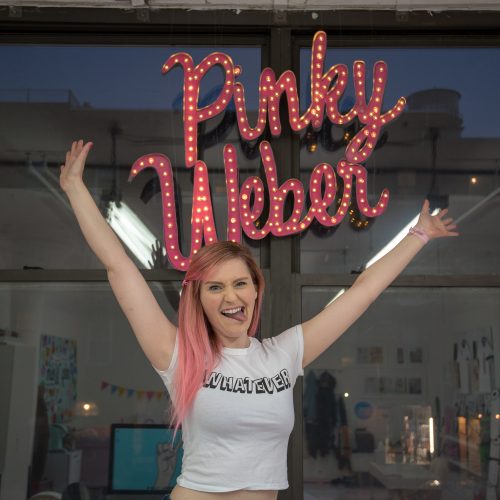 It's hard to mistake an original by Pinky Weber. With their striking colors and iconic motifs, Pinky's works look beautiful in varying mediums — as murals on brick buildings or even as square images on Instagram. Greenpointers spoke with the artist, the first in our May Thursday Spotlights to also be participating in the upcoming Greenpoint Open Studio. She'll be featured in the neighborhood-wide event on June 2–3 — look out for her enjoyable and comical pieces next month! Til then, learn more about her perspective on street art, women in the field, and — above all — donuts in our engaging interview below.
Greenpointers: How long have you been in Brooklyn?
Pink Weber: I'm originally from San Francisco, but first moved to New York City in 2010 to attend Parsons The New School for Design. After a few years of Manhattan life under my belt, I decided Brooklyn was where I needed to be. I moved to Greenpoint in 2013 and haven't looked back since!
GP: You're a donut enthusiast! Are you a Peter Pan loyalist or do you have other favorites?
PW: Yes! I love donuts so much that my first mural was a 20×30 foot donut mural in Bushwick, which I painted as a collab with Christian Hooker. I'm pretty loyal to my gals in the green and pink uniforms over at Peter Pan, but occasionally dabble in the donuts at Dough Donuts. Continue reading →