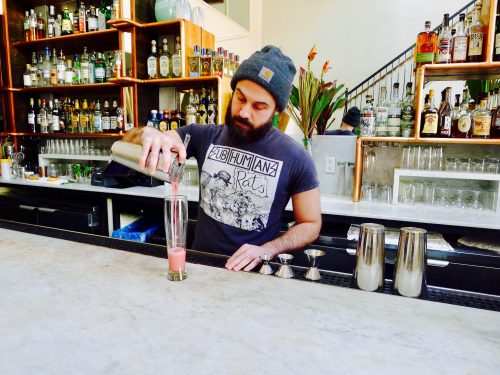 Need a new signature drink as your summer of frosé becomes a very distant memory? Ramona's bar manager Jeremy Wilson takes this tricky life decision off your plate in this week's installment of our winter survival guide. Check out our previous winter guide interviews here, here, here, here, here, here and here.
COCKTAILS: RAMONA | 113 Franklin Street
Jeremy Wilson, Bar Manager
Greenpointers: Is there a favorite cocktail that you have on the menu that you could recommend if you want to feel more uplifted in the winter months?
Jeremy Wilson: We usually come up with a couple of hot drinks for the winter. We have the hot toddy that we always do called Elsa's Toddy, named after our sister bar.  Especially when it's snowing, people come in and ask for it.  It's rye whiskey, lemon juice, maple syrup that's cut with water, fresh mint, hot water and angostura bitters on top. It's pretty clean and refreshing and just makes you feel better.
GP: What are some other drinks that you'd recommend at this time of year?
JW: The other drink would be the Black Book which is bourbon, honey, lemon, cinnamon, cardamom, nutmeg and jalapeño. The cinnamon really comes out in the forefront and the jalapeño lingers at the end. A lot of people think it tastes like Christmas. We also have a cocktail called Painting the Daybreaks which is for the relief fund for Puerto Rico and it's coconut, tequila, cinnamon, cassis, orange rind, lime juice, and coconut La Croix on top. It's a very big, loud drink and it's really good. When you use cinnamon, coconut and tequila with other ingredients, you can make a pretty great holiday cocktail. Continue reading →