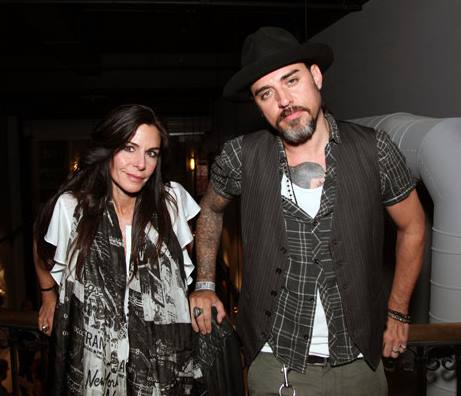 You could call
Jill Folino
and
Wven Villegas
handy people — their company, after all, is named
Mano-A-Mano
. Folino and Villegas have crafted bespoke signs for Citroen and holiday decor for our holiday market — to name just a few recent examples of their work around the nabe — but it is their communally-sustained relationships they seem to prize most. As our interview illuminates, the crafty mavens behind Mano-A-Mano not only support each other but local establishment after local establishment. They see their projects as a way to artfully represent a company's vision while also planting themselves knee-deep in the ethos of all they collaborate with. Below, we caught up with the two artisans to discuss their creative backgrounds and favorite projects.
Greenpointers: Introduce yourselves!
Jill Folino: I work with a partner, Wven Villegas, and we created
Mano-A-Mano
. Our work varies from mural and sign painting, sculpture, woodworking, type and creative direction. We model building and anything else we can conjure up. Together we share a tool box of skills that we are constantly juggling.
Do you both reside in Brooklyn?
Wven has lived in Greenpoint for over 13 years, while I was born and raised in Staten Island where I once again currently reside. We work out of a three-car garage we converted into our studio behind my apartment so we have more than ample room to spread our creative wings. It's also enough space to build some sizable pieces. It's our creative lab we dubbed "Pop Art Garage."
When we were asked by our good friend JD to lend some props for decor at the market, we didn't hesitate. We love that this market is a platform for artisans and other creatives like ourselves to present their creations. We hope to be vendors at a future market.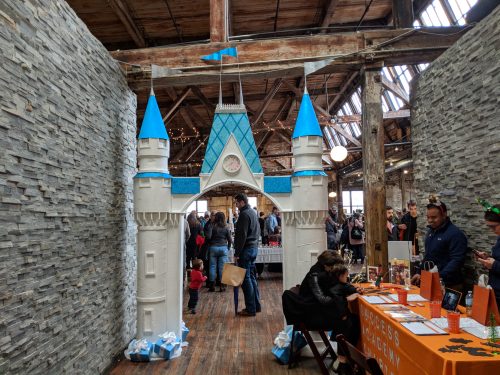 The castle was created a few years back for a children's birthday party, but we gave it an icy makeover, changing it from it's original cream colored/pink and Disney-esque paint job. The snowman on the other hand, has been around for more than 20 years. He's been a fixture in our studio, just hanging around changing hats and costumes. We felt it was time for him to get out into the world and get a real job, hehe. The Out Snapped photo booth was his first modeling gig!