Guided Tours of Artist Studios This Weekend (6/2-6/3) for Greenpoint Open Studios!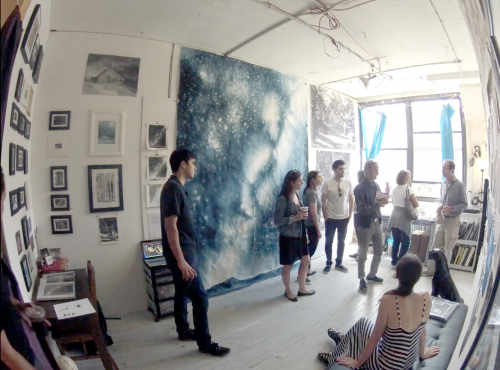 This year Greenpoint Open Studios promises once again to be a spectacularly art-filled weekend on June 2nd & 3rd, with more than 400 local artists opening up their studios to the public — plus parties, special events and guided tours of artist studios. Greenpoint Open Studios is free and open to the public all weekend (from 12pm-6pm each day), but if you want to get sone one-on-one time with select local artists and have a little help navigating the hundreds of studios, a guided tour is the best way to go. The tours, hosted by Greenpointers art writer Madeline Ehrlich and former art dealer turned realtor Lynn Del Sol, will help you get up close and personal with participating artists and their work, learn about their craft first-hand and ask questions about their practice.
Here's a rundown of all the tours offered this weekend. Registration is $20, and you can buy tickets in advance or pay cash on-site. The tours include a stop at a local bar with one FREE BEER per participant!
-SATURDAY TOURS-
Greenpoint Open Studios Guided Tour: South Greenpoint
Saturday, June 2nd | 12pm-2pm
Tour starts at 231 Norman Avenue
Artists: Aaron Zulpo, Shane Walsh, Vincent Dermody, Kate McQuillen, Hillary Doyle
Tickets and info here
Greenpoint Open Studios Guided Tour: Careful, This is Art
An exploration of Greenpoint artist studios that push the boundaries of art making and conversation. 
Saturday, June 2nd | 1pm-3pm
Tour starts at 276 Greenpoint Avenue
Artists: Michael Scoggins, Jake Scharbach, Barnaby Whitfield, Laura Splan, Douglas Goldberg
Tickets and info here
Greenpoint Open Studios Guided Tour: The Other Side of the BQE
Saturday, June 2nd | 3pm-5pm
Tour starts at 473 Porter Avenue
Artists: Rosalind Tallmadge, Jeff Kraus, Danielle Orchard, Devra Freelander, Kristina Lee
Tickets and info here
-SUNDAY TOURS-
Greenpoint Open Studios Guided Tour: Northern Greenpoint
Sunday, June 3rd | 12pm-2pm
Tour starts at 394 McGuinness Blvd
Artists: Giordanne Salley, Avital Burg, Mitchell Wright & 106 Green, Courtney Childress, Julia Norton
Tickets and info here
Greenpoint Open Studios Guided Tour: Home Sweet Home
An insiders tour of how architects, designers, and artists make a house a home.
Sunday, June 3rd | 1pm-3pm
Tour starts at 79 Richardson Street (The Shanty)
Artists: Dan Funderburgh, United Visual Artists, Luca Smith Senise, C Wall Architecture, Jonathan Held, Steve Wasterval,