Best Dressed Awards, New Elevators at Greenpoint Ave Station + More Notes From Last Night's CB1 Meeting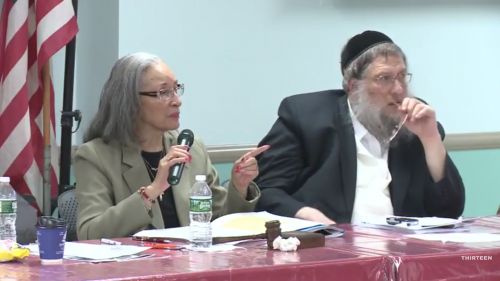 It's a frigid Tuesday night in March, currently breezy, but there was a Nor'easter in the morning. The day and the commute hasn't been easy. You probably feel like parking yourself on the couch, ordering a giant pizza and throwing back a few glasses of red wine. Well, a handful of Greenpointers staff did just that AND we watched the livestream of tonight's Community Board 1 meeting. Every month, the CB1 meeting livestreams on YouTube via PBS Thirteen, and if you're a little late or you miss it entirely you can watch it after the fact, from your damn couch. Our neighborhood is one of the lucky ones around town—not all Community Board meetings get the YouTube treatment. We've written before about how entertaining the meetings are—if the idea of a "real life episode of Parks & Rec" doesn't hook you, then check out the cast of local characters and issues below.
• There's a new gelato place that will be open late nite (till at least 12, that's late!) at 253 Wythe Ave, next to BARC.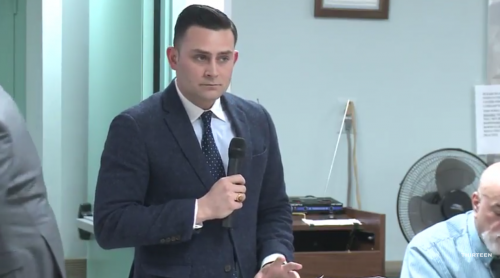 • Sauvage's Joshua Boissy wins tonight's "Best Dressed at the Community Board Meeting" award. I would describe his look as: intentional cropped light pant, smart-fitting navy suit jacket, understated tie, slicked hair. It says, "This is my casual United Nations look in an alternative 1964 universe." Apparently he is a former model, and this is just an everyday fashion. But, no matter. He made everyone else in the room look like total slobs—good on ya, Josh. That's how it's done. The restaurant was petitioning to renew its outdoor sidewalk cafe license—they currently have 14 tables and 28 seats.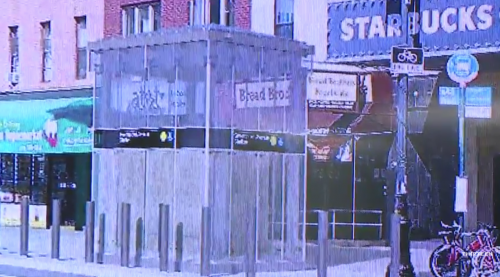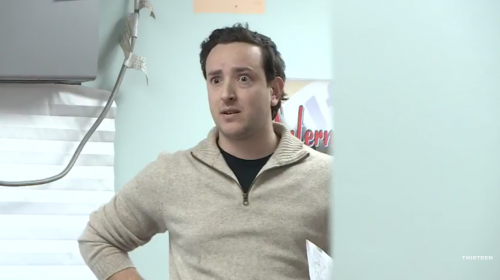 • The MTA is planning to install elevators at the Greenpoint Avenue G station. The owner of Bread Brothers Bagel shop on Manhattan Avenue, Jeremy Rosen, is not happy about this. The renderings that the MTA rep shared displayed a brand new elevator placed directly in front of the Bread Brothers location—for an unexplained reason, the proposed elevator is not blocking the Starbucks or McDonald's who are on the same corner. Rosen, whose family has apparently been running businesses in North Brooklyn for 80+ years, said his other store locations are off the L train (Montrose, Grand and Bedford). So in 2019 (in part due to the L train shutdown) he predicted, in slightly different words, "I'm fucked." The elevator is planned to jut out eight feet from the sidewalk, in front of the existing B43 bus stop, probably taking up a parking space though not technically blocking the existing sidewalk. Aside from obscuring the bagel shop's storefront, community members raised concerns about drunks and addicts sleeping in the elevator or using it as their personal toilet; that particular corner is notorious for drawing police officers to it almost daily for various shenanigans. How does the MTA plan to address that potential problem? "We'll deal with it when the problem arises." (not a direct quote, but that's essentially what they said). [and all of Greenpoint sighs,"Yeah, RIGHT."]
• There's a proposal on the table to add permanent bathrooms to the McCarren Tennis courts, in exchange for the owners to not have to remove the courts' domelike "bubble".
• 126 Kent Street, a distinct home built in the 1850s, is undergoing some renovations. Trina McKeever, the Landmarks Subcommittee Chair, said that the owners are proposing window renovations in the front, a small oven vent on the outside of the building and the addition of a back deck. The Committee recommended restoring the design of the front windows, and approving the back deck and the side vent, which the board approved.
• A private shuttle service from the Hewes Street station that goes to the Navy Yard will be discontinued, seemingly affecting about 20 people. There's a chance the service could be reinstated at a later date.
• Attendance at the board meetings has been raised again as an important issue. Active members and board members are trying to chip away at the bureaucracy and figure out the fastest way to oust inactive members who are absent for more than four meetings.
• The Women's Committee successfully fought for and won an additional hour of women's swim time at the Metropolitan Pool (261 Bedford Ave).
• "This is a meeting, not a working hour." –Dealice Fuller, Chairperson of CB1
• "We don't generally give second rounds." –Dealice Fuller, to Ben Solotaire after he got up to speak for the second time in a few minutes.
• "Make me know what you're talking about." –Dealice Fuller, when someone was rambling on.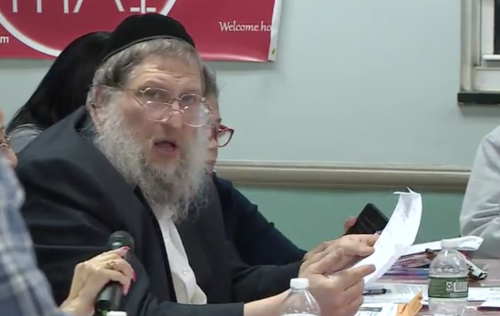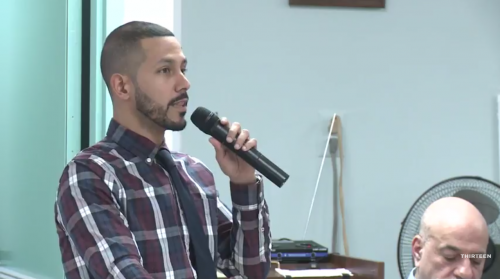 The next CB1 meeting is on April 10th at 6pm, at the Swinging 60s Senior Center (211 Ainslie Street). You can also stream it online, on PBS Thirteen.