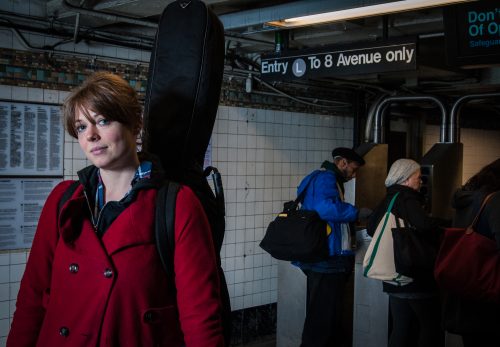 The L Train is closing, this we know. Brooklynites will relocate, biking will increase, businesses may shut down. It's a great deal of change in an ever-changing borough, and no medium captures this evolution as well as photography.
Enter local artist Tony Falcone, whose portraits of neighbors and commuters will soon be relics of an L Train past. His simple and stirring photos depict people going about their lives — lives that soon will face fierce readjustment and perhaps unwelcome change. We caught up with Tony — a celebrated street photographer — to discuss his experiences and method in capturing his subjects, and a changing neighborhood.
Greenpointers: What inspired you to capture these portraits on the L?
Tony Falcone: It is a current issue that affects lots of people and businesses who had moved to neighborhoods near the L line because of the quick and easy commute to Manhattan. The L Train is a big reason why neighborhoods like Williamsburg grew to what they are now. Continue reading →