Celebrate Elevt Fest Will Rock You!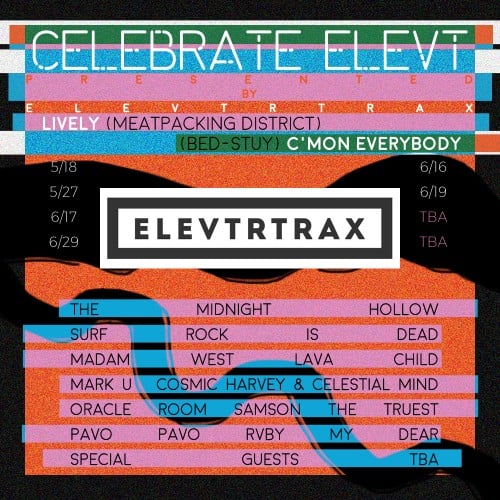 ElevtrTrax is a Greenpoint-based music & video blog created by Brooklyn native/artist Nadeem Salaam. His experience in the local music scene for 10+ years and community organizing gave way to a music blog. The site got endorsed by HypeMachine and DoNYC, and most recently video content they've made for local bands Journalism and Madam West have premiered on MTV and highlighted on NPR's Tiny Desk Submissions.
"Celebrate Elevt" takes place May 18th and runs till June 29th. It's a celebration of the things that elevate us and celebrates the power of music to bring us together. Taking place for a total of 6 nights in 2 venues across Manhattan and Brooklyn, featuring bands like The Midnight Hollow, Madam West, Surf Rock Is Dead, Pavo Pavo, Oracle Room, Samson The Truest, Rvby My Dear, Mark U, Lavachild, and special guests! Tickets are on sale now!
LIVELY (MEATPACKING DISTRICT):
5/18 – MADAM WEST + MARK U 
5/27 – ORACLE ROOM + COSMIC HARVEY & CELESTIAL MIND
6/17 – QUIZTOW, SPECIAL GUESTS
6/27 – FAKEGUNS, SPECIAL GUESTS
C'MON EVERYBODY (BED-STUY):
6/16 – LAVACHILD, SURF ROCK IS DEAD, THE MIDNIGHT HOLLOW
6/19 – RVBY MY DEAR, PAVO PAVO, SAMSON THE TRUEST