Abridged Greenpointer's Father's Day Gift Guide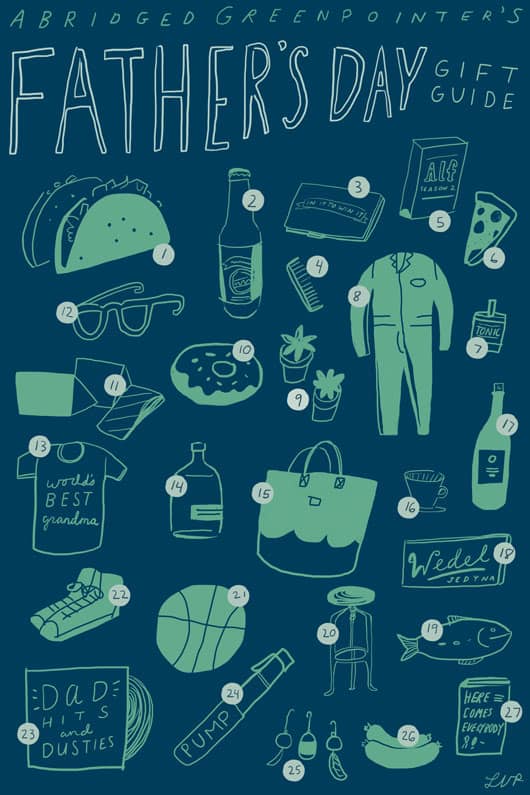 Need some father's day gift inspiration? There's plenty of cool stuff to give right here in your own backyard!  Here's a short list of ideas (which is admittedly in no way comprehensive, as there are so many more awesome small businesses here in north Brooklyn, so feel free to add to the list of ideas in the comments section).
1. Tacos, La Norteña / Vamos Al Tequila  2. Fine craft beers, Brouwerij Lane  3. Engraved biz card case, In God We Trust  4. Nice new comb, Chopin Chemists  5. Vintage VHS, The Thing  6. Slice of pizza, Vinnie's / Franklin Pizza  7. Fine colognes, Old Hollywood  8. Coveralls, Pop's Popular Clothing  9. Succulants (a.k.a. plants that require minimal care), Homecoming (formerly known as Spina)  10. Donut, Peter Pan  11. Delicious cheeses and Keta candy, Eastern District  12. Sweet shades, Alter  13. A funny old tshirt, People of 2Morrow  14. Fancy and rare spirits, Duke's Liquor Box  15. Beach tote, M. Carter  16. Pour over coffee maker, Budin  17. A nice rosé, Dandelion Wine  18. Polish chocolates, Slodycze Wedel  19. A whole, fresh fish, Pura Vida Stand at McCarren Park Greenmarket  20. Stool for sitting and pondering, Bklyn Curated  21. Basketball, BQ Sports  22. Cool kicks, Wolves Within  23. Vintage vinyl, Permanent Records / Academy Records / Co-op 87 / Records Grouch  24. Portable bike pump and other biking accessories, Silk Road Cycles / B's Bikes / Greenpoint Bikes  25. Bobbers and other fishing accessories, Dream Fishing Tackle  26. Polish sausages, smoked meats, and pickles, Nassau Meat Market / Mazur Meak Market (and so many more!)  27. A good book, like this one about the Pogues, Word. 
Illustration by Libby VanderPloeg