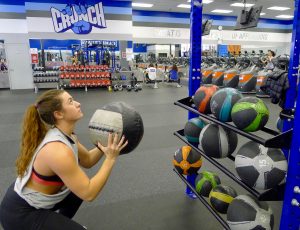 Surely just surviving the walk to the G train in this freezing weather must mean we're burning enough calories to outweigh all of the apple cider donuts, right? This week, as part of our 8-part winter survival guide series, we spoke with Crunch personal trainer Kaitlin Mazzei about changing up our fitness routines in the winter months. Check out our previous interviews here, here, here, here, here, and here.
FITNESS: CRUNCH | 825 Manhattan Avenue
Kaitlin Mazzei, Personal Trainer
Greenpointers: Do you see more or less people in the gym in winter?
Kaitlin Mazzei: As soon as it starts to get cold people pretty much stay at home. Especially because that also tends to be the time around the holidays and I've noticed that most people say fuck it because they're going to be eating poorly anyway. But once January hits, BOOM. The New Year's resolutions are back and the gym is packed for about a month or two. Then it's quieter again until right before summer. Continue reading →