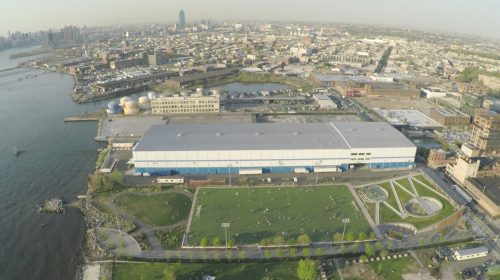 The community organization Friends of Bushwick Inlet Park has been fighting for green space in North Brooklyn since 2005. That year, the City rezoned Greenpoint and Williamsburg, leading to frenzied development in both neighborhoods. At the time of the Rezoning, the City promised to compensate North Brooklyn by adding park space to the neighborhood, with 27-acre Bushwick Inlet Park being the most prominent among the green parcels. But, 13 years later, residents are still waiting for that park space, and local advocacy groups like Open Space Alliance, Neighbors Allied for Good Growth, Greenpoint Waterfront Association for Parks and Planning, and of course, Friends of Bushwick Inlet Park, have been fighting from that time til this to hold the City accountable.
The 2005 Greenpoint-Williamsburg Open Space Master Plan outlined 6 goals for Park Space in North Brooklyn:
Goal 1: Create a publicly accessible waterfront
Goal 2: Create a balance between active and passive recreation opportunities to serve the diverse recreation needs of the community
Goal 3: Identify appropriate opportunities for direct interaction with the river, such as boating
Goal 4: Promote a healthy east river environment through sustainable design practices, habitat enhancement, and public education
Goal 5: Develop design guidelines to unify the waterfront as a whole, while encouraging the creation of unique, memorable spaces on an individual basis
Goal 6: Reflect the rich character, heritage and culture of the community in both publicly and privately developed open spaces. 
Neighborhood advocates had enormous success working toward those goals in 2017: In April, Mayor de Blasio closed on all 27 acres of parkland, ensuring that Bushwick Inlet Park will be a reality; in October, the Mayor pledged an additional $17.5 million in funding to develop the park, and over the summer, the City finished remediating the 50 Kent parcel of parkland. Following those spectacular strides, Friends of Bushwick Inlet Park hopes to take advocacy "to the next level" in 2018, pushing the City, the Parks Department, and other involved stakeholders  to remediate, design and develop the rest of the park with community input, in a way that adheres to the principles of the original Master Plan.  Continue reading →
Category:

Community, News, Uncategorized
Tags:

#HeresOurPark, 86 Kent, Friends of Bushwick Inlet Park, green space, Greenpoint Waterfront Association for Parks & Planning, Here's our Park, neighbors allied for good growth, nyc parks, open space alliance for north brooklyn, parks, Where's our Park, wheresourpark
1 Comment