Neighbors Allied For Good Growth Fundraiser Gala This Thursday (10/26)!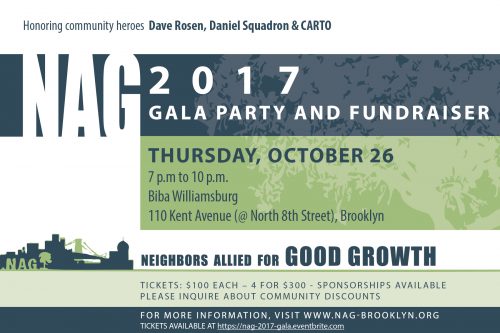 Neighbors Allied For Good Growth
(NAG), is a long standing community group made up of dedicated local activists that volunteer their time. If you're not already aware, NAG was instrumental in the
Where's Our Park campaign
for the city to obtain the
last parcels of land
in Bushwick Inlet to create a new neighborhood park (and
it was a success!
). They are also helping our neighbors to
test levels of lead in our soil
. And they created a neighborhood
Toxicity Map
, a valuable tool and resource for members of our community. These are just some of the major community, development and environmental issues that NAG has given our neighborhood the power to address. In short, they are pretty badass.
This year NAG has partnered with the
Greenpoint Waterfront Association for Parks and Planning
(GWAPP) to develop a strategic plan for the creation of a new, larger community civic association. Looking forward to the 2018 launch of this new group, the 2017 NAG Gala is a chance to celebrate their 23 years of accomplishments and this new partnership. This Thursday October 26th, they are asking for your attendance and support. Here are the details:
NAG Annual Party and Gala
Tickets
start at $50-100, with sponsorship opportunities starting at $500 and up.
4 tickets for $300, and discounted tickets can be made available.