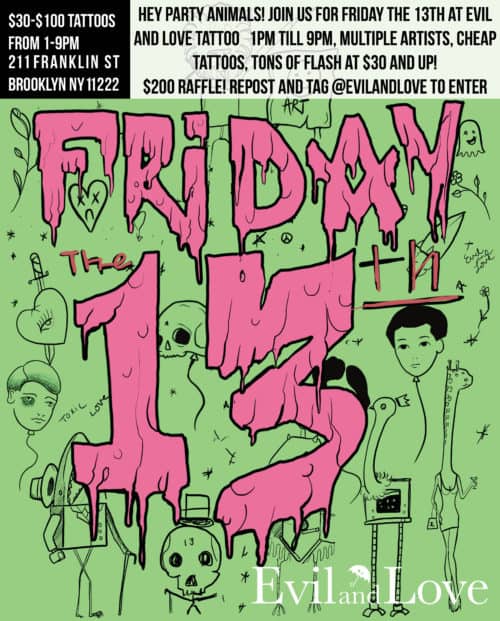 If you're tatted up at all, you probably know about the Friday the 13th tradition shops have for offering relatively cheap flash (pre-designed) artwork. I've met a few people who only have tattoos from Friday the 13th flash sales—it's a look that either says "I'm too cheap for a sleeve," or "I don't give a fuck what you think." Honestly, though I appreciate a beautifully-designed back piece, I'm a fan of the miniature bodyart form that is flash. Here's some local shops who are offering deals today. Be prepared to wait in line.
Evil and Love | 211 Franklin St.
$30-$100 tattoos from 1-9pm. Come by for cheap tattoos, $200 raffle and good company. Re post and tag us to enter the raffle. We'll be taking walk-ins all day and have tons of flash to choose from!
Three Kings Tattoo | 572 Manhattan Ave.
@dave_ball will be tattooing special designs from his Black Book, as a "Black Friday the 13th" special! Stop by our Brooklyn shop and check out what Dave's got in his spooky Black Book! Also @adamjmachin will be offering some special flash designs from 1pm til 10pm! Each piece is $130 and are sized as is. Tattoos will be done on a first come, first served basis, so be sure to get here early! Continue reading →