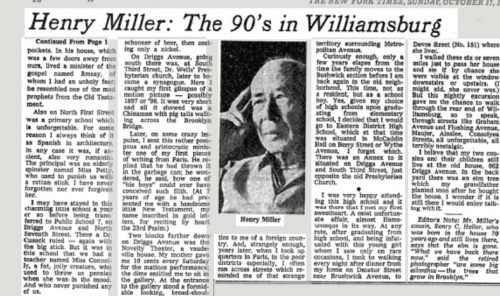 Henry Miller is not only one of the greatest writers Brooklyn ever produced, but also a chronicler of the now vanished North Brooklyn before the building of the Williamsburg Bridge in 1903. Honestly, there are times when I do not like Miller's writing: it can be macho, self-obsessed, vain and highly egotistical, but when writing about old Williamsburg he approaches literary genius.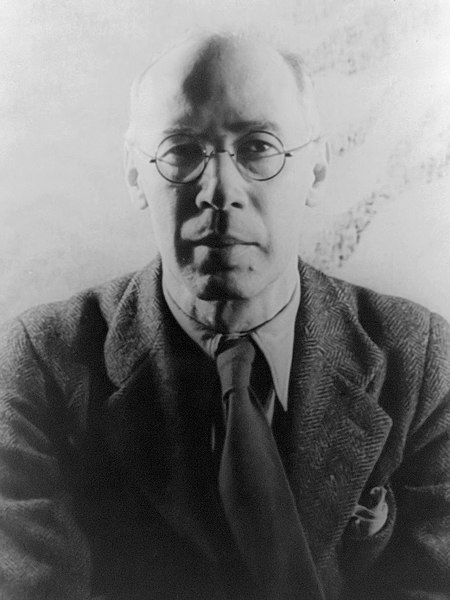 In 1971, the New York Times (PDF) invited the then 80-year-old Miller back to Williamsburg to recollect on his childhood. Though he had been away for five decades, Miller had a crystal clear memory, recalling many fascinating stories from that vanished world of his childhood. Miller was born of German-American parents in Manhattan in 1891, but moved to the area as an infant, living at 662 Driggs Avenue, a house that still stands.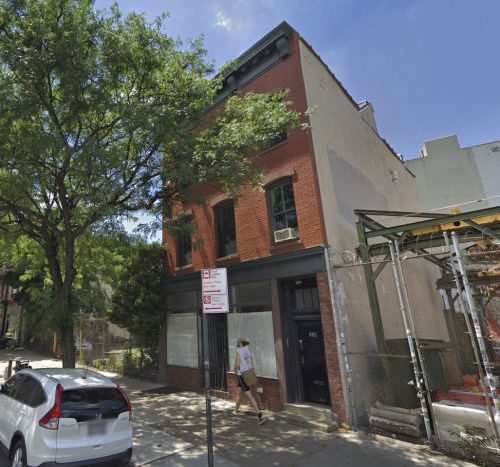 His fondest memories, which occupy much of his writing, concern his boyhood friends from the neighborhood. He said, "As I walked the streets the names of my boyhood companions, or better said, my idols, came back to me: Johnny Paul, Eddie Carney, Lester Reardon, Jimmy Short, Tim Buckley; Matt Owen, Gus Fowler, and last but not least, my first real chum, Stanley Borowski. With Stanley I maintained a friendship until I left for France in 1930. Like myself, he wanted to be a writer; I doubt that he ever made it however."
Reading Miller's writings, the neighborhood comes into focus through the eyes of a mischievous young lad who would later be censored by the United States Post Office for his shocking prose. Miller recalled first being rebuked for his language at the police station at Bedford Avenue where he was dragged by the arm one afternoon by a babysitter at the age of 6 or 7 years old; the crime he had committed was to use dirty language in her presence – the first of many times Miller would shock people with his language.
Miller's writing later shocked another, more prominent Williamsburger, Presbyterian Minister John D. Wells. Today John D. Wells Middle School on S. 3rd St. is named for the preacher Miller knew as a child. He recalled, "Later, on some crazy impulse, I sent this rather pompous and aristocratic minister one of my first pieces of writing from Paris. He replied that he had thrown it in the garbage can; he wondered, he said, how one of 'his boys' could ever have conceived such filth." At 7 years of age, Wells had presented Miller with a handsome little New Testament, his name inscribed in gold letters, for reciting by heart the 23rd Psalm. Continue reading →