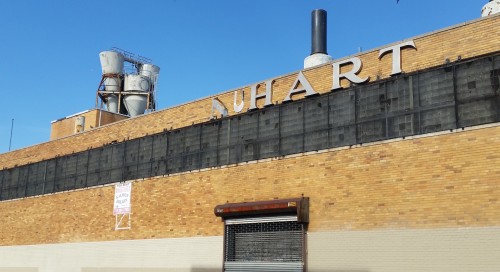 The deadline is Monday, Nov. 19, for you to send feedback to the Dept. of Environmental Conservation regarding the proposed cleanup (PDF) of the former Nuhart Plastics manufacturing facility, a state Superfund site.
The soil and groundwater onsite are contaminated with the plastics softener phthalates and the cleaning solvent TCE, both human carcinogens, and a potential school is being discussed for an adjacent lot on Franklin Street.
A letter from the North Brooklyn Neighbors requests the Superfund remediation process include an independent expert to monitor the cleanup and off-site impacts:
The neighbors/residents need to be confident that site-related activities will not expose the residents and visitors to harmful conditions during any part of the work. The community has raised concerns about dust, odors, noise, and possible off-gassing of VOC's or SVOC's during the remediation. DEC should do all it can to ensure off site impacts are mitigated to the great extent practicable to safeguard public health and address community concerns.

The community requests a website for the DEC and developer to share the results of air and environmental monitoring in real time during the clean-up. Such websites have been used and are in use at other cleanup sites, including the Hudson River PCB removal action.

We request an independent on-site expert to monitor the clean up and ensure that there are no significant off site impacts (e.g. odors, ambient air pollution, noise, etc.) to the community during the remediation, especially when the building is being brought down and the contamination on site is being dug up.