There are more events in our weekly calendar! Submit Greenpoint events, too!

WEDNESDAY 5/3
* Geeks Who Drink @Bar Schimmi (60 North 11th St) 6pm, FREE, A homegrown Pub Trivia Quiz modeled after those in Ireland and the UK. Quizzes cover everything from celebrities in trouble to wordplay to bad television, More info
=) The Juice Comedy Variety Show @ Union Pool (484 Union Ave) 8pm, $5, The Juice is a comedy variety show including some of the best stand up, improv, & sketch, hosted by Carmen Christopher, Buy tix
♫ Talib Kweli LIVE with full band! @Brooklyn Bowl (61 Wythe Ave) 8pm, $17-20, Buy tix
Greenpoint Film Festival (Thursday, May 4th- Sunday, May 7th) @ Wythe Hotel (80 Wythe Ave), various times from 5/4-5/7, passes from $10, Buy tix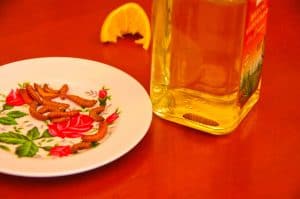 THURSDAY 5/4
# Spring Spirits: Mezcal and the Taste of Oaxaca @ MOFAD (62 Bayard St) 6:30pm, $60, An evening of Oaxacan food and drink to usher in Cinco de Mayo. Learn more about the production of mezcal, its diversity of flavors, and the important role insects have played in Mexican cuisine long before guacamole with grasshoppers appeared on American restaurant menus, Buy tix
♦ The Art Party @ Brooklyn Bazaar (150 Greenpoint Ave) 7pm, $50, A wonderful evening of art, music, online art auction, drinks and hors d'oeuvres supporting the arts for children at PS 34, Buy tix
♦ Saving Jamaica Bay Screening @ North Brooklyn Boat Club (437 McGuinness Blvd) 7:30pm, $5, A great movie about nature and a wildlife refuge in NYC you have to see, More info Continue reading →
Category:
What's Happening?
Tags:

Bar Schimmi, brooklyn bazaar, Brooklyn Bowl, Center for Performance Research, flying squirrel, gamba forest, good room, greenpoint film festival, greenpoint loft, Kentucky Derby, Magick City, matchless, McCarren Park, MOFAD, Muchmore's, north brooklyn boat club, Park Church Co-Op, riverkeeper, Saint Vitus, union pool, UnionDocs, Warsaw, william vale, Word, wythe hotel
0 Comments