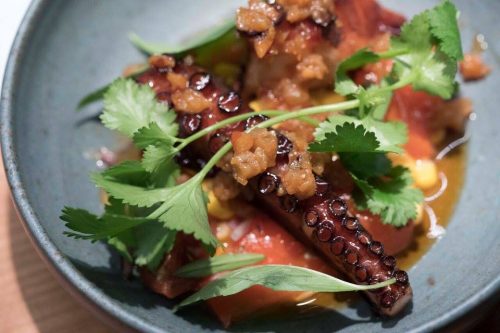 A laundromat at 132 Franklin St. that's sat empty for over a year is about to have a delicious upgrade. Paris-based Fulgurances, is opening a Greenpoint location of its incubator for rising chefs.
Parisian and recent Brooklynite Hugo Hivernat (along with partners Sophie Cornibert, Rebecca Asthalter and Pierre Bufett) launched his original chef residency program in Paris, Fulgurances, L'Adresse, in 2015. Fulgurances will bring a similar visiting chef model to the Brooklyn rendition.
"We compare what we do to an artist residency: Fulgurances invites young chefs for a three- to six-month residency program where they can learn how to manage a team, define and refine their culinary identity, and express themselves as they want, without having to worry about the administrative and financial aspects of running a restaurant," says Hivernat.

In Paris, chefs and sous chefs, who were "hidden gems in the kitchen," Hivernat says, have come to Fulgurances from restaurants all over the world, including highly acclaimed global restaurants like Noma, Osteria Francescana, and Cosme.
"With this new residency location, we hope to keep bringing both local and international chefs, because a huge part of cooking is about being open to others and to the world," says Hivernat. "The goal is also to create bridges between Paris and New York, and perhaps even have chefs rotate from one city to another in order for them to be confronted with a new terroir, and a new audience."