Looking for Love on the G Train, Life and Death in Brooklyn — The Hook-up (2/23)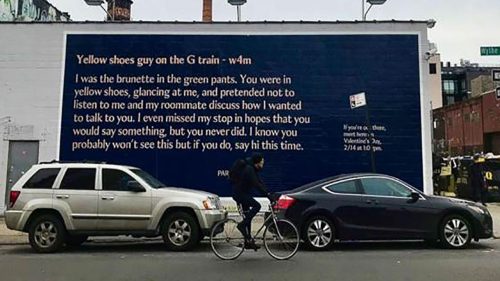 The Man in the Yellow Hat was always looking for Curious George. This Valentines Day, a 25-year-old Williamsburg woman was looking for the Guy in the Yellow Shoes. After a chance meeting on the G train,  she took the hunt to massive proportions, opting for a 20-foot billboard.  
That's not the only plan hatched aboard the subway this week! The newest L-pocalypse proposal, from a community group called L-ternative Bridge, calls for a Patroon Bridge over the East River to carry busses, pedestrians and cyclists from North 8th Street in Williamsburg to East 10th Street in Manhattan. So far, the MTA has not commented on the idea.
But not all straphangers are so community minded. In fact, one G Train passenger knocked another unconscious in the Bedford-Nostrand station on Wednesday night.
This comes on the heals of a deadly weekend in Brooklyn. At least four people lost their lives in the borough over the long weekend, including a 62-year-old Greenpoint woman who fell to her death on Monday from a window above Little Italy Pizza (800 Manhattan Avenue).