Democrat Stephen Levin Wins City Council Race in a Landslide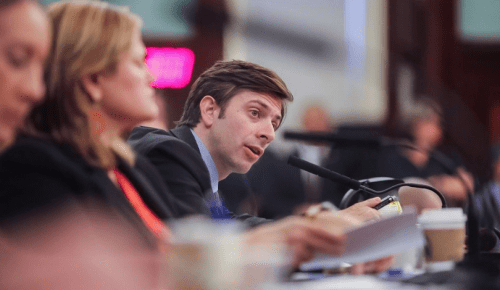 Democratic City Council Member Stephen Levin was re-elected to represent Greenpoint and the rest of the 33rd District on the New York City Council this Tuesday, November 7th. Levin received more than 18,600 votes, or over eighty-eight percent of the ballots cast. His opponent was a native Greenpointer, Victoria Cambranes, a novice politician who received some two thousand seven hundred votes, or about eleven percent of the vote. Cambranes cut into Levin's victory total in 2013 when Levin received over ninety-one percent of the vote. Cambranes attracted some support because of her Polish and Latina background, but still fell far short of the very popular Levin.
Part of the reason for the Levin landslide was his success in getting the city to buy the land for Bushwick Inlet Park. In announcing the purchase of the land, Mayor De Blasio, an ally of Levin's, spoke of Levin being a tireless gadfly in advocating for the purchase of the park. Levin was also instrumental in gaining more than seventeen million dollars in funding for the park. Although many Greenpointers are happy about Levin's victory, there is sadness with the realization that term limits will mean that this is Levin's third and final term on the City Council. Levin has been an outspoken advocate for the homeless and for affordable housing. He is the chair of the important General Welfare Committee and many Greenpointers point to his active engagement in community affairs. A graduate of Brown and a relative of Michigan Senator Carl Levin, the thirty-six year-old Levin has a bright future in politics ahead of him. Let's hope he continues to have success in improving Greenpoint.