Breakfast Takedown Call for Chefs!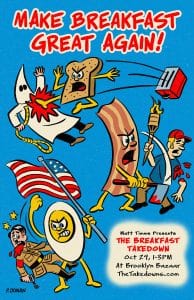 Earlier this year, Matt Timms brought the OG food competition, The Takedowns, back to its proper home in Greenpoint. The competition came into existence 15 years ago at Bar Matchless, when 100 people paid to eat various chilis made by amateur chefs. Now, when in the neighborhood, Matt holds the Takedowns at Brooklyn Bazaar where you can eat all you want, grab a drink, and hang all afternoon. This month, the Takedown is all about our favorite meal, breakfast. Except Matt needs one thing: chefs!
For this Breakfast Takedown at Brooklyn Bazaar on the 29th, you can go crazy. Breakfast tacos? Yes. Chilaquiles? Sì. Doughnuts? Of course. BEAR CLAWS?! We're all about it. Hand pies? That's basically what Pop-Tarts wish they were. Homemade granola? Sure, okay. Whatever it takes to Make Breakfast Great Again! Like with every Takedown, there will be prizes from Cuisinart, Anolon, Microplane, and Wüsthof for the People's Choice & the Judges' Choice. Greenpointer Jenn de la Vega and a special secret judge from the breakfast-centric website Extra Crispy will be tasting each and every bite before laying down the law. The best part is it's all a fundraiser for United for Puerto Rico. Can't cook but want to eat all the breakfasts? $20 tickets are still available.