A Teen in the Turnstile, A Man in the River, and Sex at the Center — The Hook-up 9/29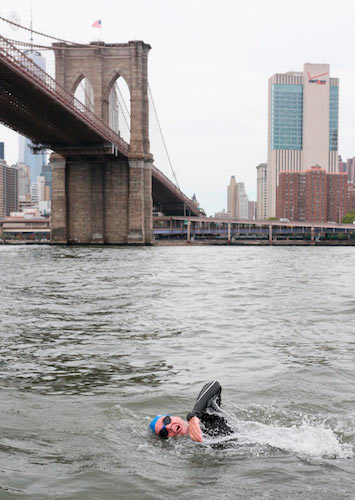 We've all had trouble with the turnstile before — maybe your MetroCard isn't swiping, maybe some of the turnstiles are out of order — but it takes a special skill and dedication to find yourself wedged on top of a full height turnstile at 8am on a Tuesday morning at Court Square, as one teenage turnstile jumper did this week. A witness told Gothamist that the teen "tried to hold back the gate and slip through it, but it slipped back and wedged him in." Ultimately, he had to be detangled from the turnstile by MTA personnel.
And that's not the only wild feat in the news this week. Christopher Swain, an activist swimmer who has already plunged into the Gowanus Canal and Newtown Creek, swam the East River last Thursday from Greenpoint to Brooklyn Bridge Park in order raise awareness for the global refugee crisis. He took off from Greenpoint's India Street Ferry Dock, and finished his journey at Pier 5 in Brooklyn Bridge Park.
If the East River isn't dirty enough for you, Greenpoint was all about sex this weekend as the SexExpo took over The Brooklyn Expo Center (72 Noble Street).