Six Art Shows To Check Out This Weekend!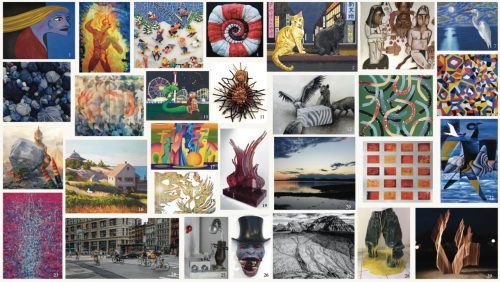 Williamsburg Art & Historical Center | 135 Broadway
18th Annual WAH Salon Show
This exhibit featuring dozens of artists is closing this weekend, so go check it out! The WAH Center offers an artist membership program called the "WAH Salon Art Club". Every January, the members can participate in the Annual WAH Salon Show, which gives exposure to artists of a wide range and spectrum – from emerging, to mid-career, and established artists in all media. In concept, the Salon is all the colors of the artist's palette.
Exhibit closing this weekend, gallery open Friday-Sunday 12pm-6pm
Greenpoint Gallery | 390 McGuinness Blvd.
"Salon De Eros"
This show proposes to be an "erotic showcase of love and its carnal delights, aiming to blush, excite and provoke viewers", showing a range of local artists.
Opening event Friday, February 17th, 8pm-1am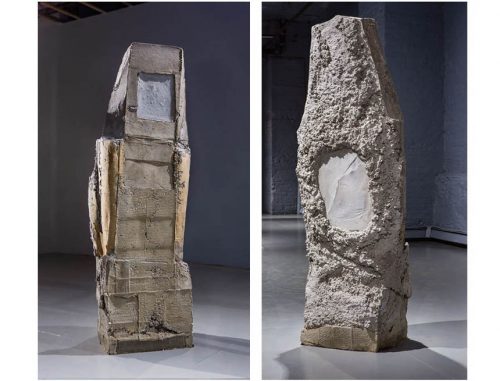 David & Schweitzer | 56 Bogart St.
Ruth Hardinger – "Eye of the Earth"
Ruth Hardinger's work shares an affinity and respect that indigenous cultures had for the environment. Hardinger's instinct is to dig deep; she plunges beyond aesthetics and processes to empower her stone, concrete, paper, graphite, and mixed media works with consciousness and memory. Each Hardinger work has many layers and probes themes that include time, death, causality – modern and ancient culture's philosophies, psychologies, and geothermal strata – air, earth and water.
Opening reception Friday, February 17th, 6-9pm.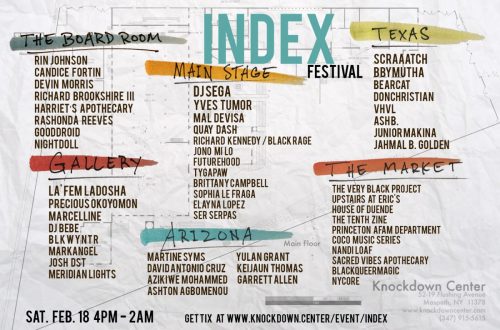 Knockdown Center | 52-19 Flushing Ave.
INDEX
To coincide with Black History Month, Knockdown center is presenting an all-day festival of music, performance, art and community engagement. INDEX highlights innovative voices of Black-Latinx experience, featuring the works of artists, activists and academics alike.
Saturday February 18th, 4pm-2am. Tickets $20, 18+



Safe Gallery | 1004 Metropolitan Ave.
New work by Clayton Schiff and Andy Onderdonx. Check out Schiff's surreal paintings (an alligator on a La-Z-Boy chair for one), and Onderdonx's latest foray into playful sculpture.
Opening reception Saturday February 18th from 6-9pm.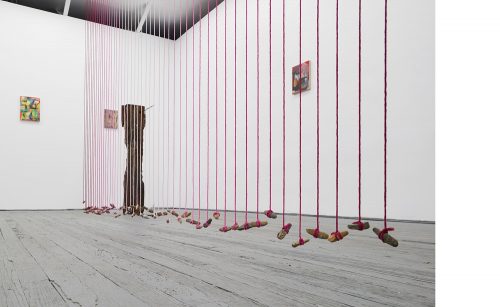 Present Co. | 254 Johnson Ave.
There's just two more weekends left to check out Meridian Atlas with sculptures and installations by Claudia Pena Salinas and paintings by Lumin Wakoa.