Tonight is Greenpoint Gallery Night! (7pm-10pm)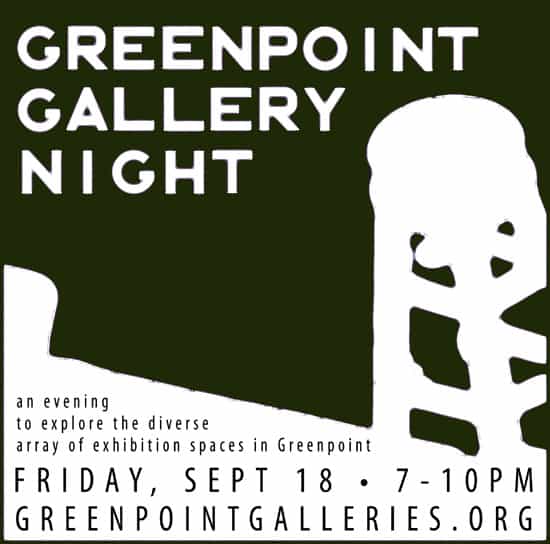 It's Friday night and we're feelin' alright! Kick it off with Greenpoint Gallery Night (7-10pm)!
Participating venues:
Booklyn Artist Alliance • 37 Greenpoint Ave
Brouwerij Lane • 78 Greenpoint Ave
Calico • 67 West St
Dandelion Wine • 153 Franklin St
DUSK editions • 61 Greenpoint Ave
Greenpoint Terminal Gallery • 67 West St
The Java Project • 252 Java St
Owen James Gallery • 61 Greenpoint Ave
Superchief • 66 Greenpoint Ave
Three Kings Studio • 754 Manhattan Ave
Yashar Gallery • 276 Greenpoint Ave
Map of GGN, September 18, 2015.  Click here to view a printable map.
For more information, check out Greenpoint Galleries Night website or contact the organizers, Owen Houhoulis or Scott Chasse at [email protected].