Valentine's Market Preview // 70+ Vendors! (2/9)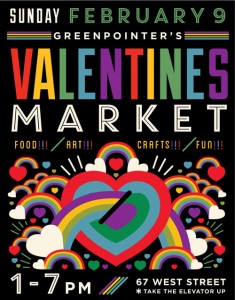 We can't wait to see you on Sunday for our Annual Valentine's Market! Below is a preview of our amazing and talented local vendors…
Make sure to RSVP and spread the love!
Deets: Greenpointers Valentine's Market on Sunday February 9, 2014 from1-7pm at Greenpoint Loft (67 West St, 5th Fl).
Get in on our Terrarium Class before it sells out! Reserve now.
Serving: Brooklyn Brewery Beer & Mulled Wine (Dandelion Wine + Greenpoint Trading Co.), Cafe Grumpy Coffee, Adelina's Rice Balls, Cafecito Bogotá Empanadas & Ovenly Cookies – ALL on responsibly made Susty Party supplies! 
(+ MORE FOOD VENDORS!)
Activities: FREE Love Letter Writing by Brooklyn Craft Company, FREE Couples Astrology Readings by Sidereal Signs, FREE Photo Booth by Yuka & Miguel, FREE Nail Art by Peenk!, FREE Massages by [email protected]
PLUS: SPEED FRIENDING!!! 4-6pm (Don't ask because we are still figuring it out, too – kind of like love…) Here's the idea: it's like speed dating without the pressure. No strings attached and no sexual preference specificity. AKA gays, straights, whatevs are welcome to participate. The goal is to talk to peeps and make friends. New to Greenpoint? Hate your friends? Make some new ones or MAYBE you will meet the human of your dreams!