It's Happening: Land-Use Review Begins For Greenpoint Landing; Public Meeting (5/6)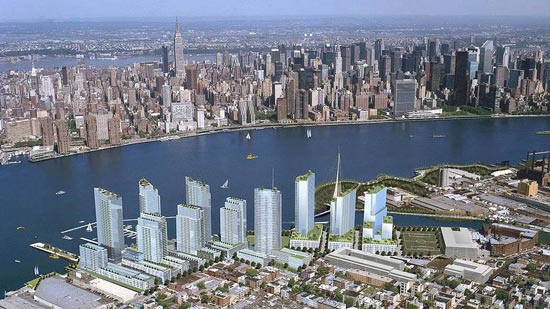 Things are getting real for Mayor Bloomberg's proposed whopping 5,000-unit waterfront development called Greenpoint Landing. The ball is rolling and land-use review will begin this summer. Greenpoint as we know it will be changing dramatically. Say bye bye to vast views of Manhattan from the once sunny and quiet waterfront. Say hello to 10 high rise buildings, 25% more Greenpoint residents and inevitably crowded G trains. A new park, a marina and a public school are part of the proposal. I imagine many new businesses will be opening up as well. (Hopefully not two nearly identical franchise pharmacies like on Kent Ave.)
Want to learn more or share your opinion? Attend a public meeting on May 6, 2013 at 6:30pm at McCarren Park Recreation Center.
Comments are welcome below.
As reported on Brownstoner:
"Last week Community Board One posted a notice that representatives of the mayor requested a meeting with the land-use committee to brief them on three important projects coming to Greenpoint. The first, and easily the largest project in store for Greenpoint, is the 5,000-unit Greenpoint Landing … (The developer previously stated that they hoped to break ground by this summer.)
Second, the mayor's office will present on 77 Commercial Street and the former MTA property at 65 Commercial Street. Clipper Equities is proposing a development at No. 77, using the air rights from No. 65, the lot that is slated to become a park. The developers will need a special permit to do so, and like Greenpoint Landing the project will undergo the city's land-use review process this summer.
Finally, a rep from the Economic Development Corporation will talk about the Newtown Barge and Box Street Parks, the two parks adjacent to Greenpoint Landing and 77 Commercial Street."