What to do with $1 Million? Participatory Budgeting Voting Begins Tonight (4/1 thru 4/7)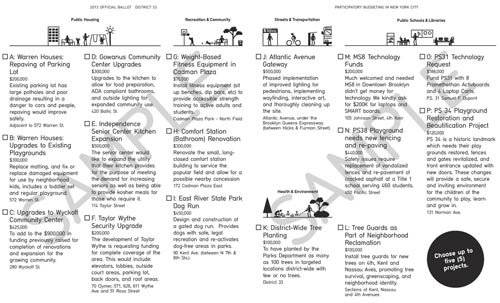 You have the next seven days to vote on how $1 million dollars should be invested in neighborhoods that include Greenpoint & Williamsburg. Projects include technology upgrades at PS31, restoration and beautification of the playground at PS34, a new dog run in East River State Park, district wide tree plantings and installation of tree guards for new trees on Kent and Nassau Ave.
You can choose up to 5 projects to vote on. This is a great chance to have a say in where public funding goes in our communities!
Monday, April 1
* Northside, The People's Firehouse, 113 Berry St. at N 8th: 6-8pm
Tuesday, April 2
* Northside, The People's Firehouse, 113 Berry St. at N 8th: 6-8pm
Wednesday, April 3
* Greenpoint, PS 34, 131 Norman Ave: 7:45-9:30am
* Northside, The People's Firehouse, 113 Berry St. at N 8th: 6-8pm
Thursday, April 4
* Northside, The People's Firehouse, 113 Berry St. at N 8th: 6-8pm
Friday, April 5
* Greenpoint, PS 31, 75 Meserole Avenue: 7:30-9:30am
* Williamsburg, Independence Towers Senior Center, 114 Taylor St: 10am-4:30pm
Saturday, April 6
* Greenpoint Public Library, 107 Norman Ave: 10am – 5pm
* Northside, The People's Firehouse, 113 Berry St. at N 8th: 6-8pm
* Williamsburg, El Puente Community Center, 80 Clymer St: 10am-5pm
Sunday, April 7
* Williamsburg, Independence Towers Senior Center, 114 Taylor St: 10am-4:30pm
* Northside, The People's Firehouse, 113 Berry St. at N 8th: 6-8pm