Greenpointers Sponsors 2 CMJ Showcases in Brooklyn, 10/16 & 10/20
Greenpointers is excited to be the media sponsor for two local CMJ music showcases in Brooklyn, during CMJ Music Marathon which takes place October 16-20, 2012.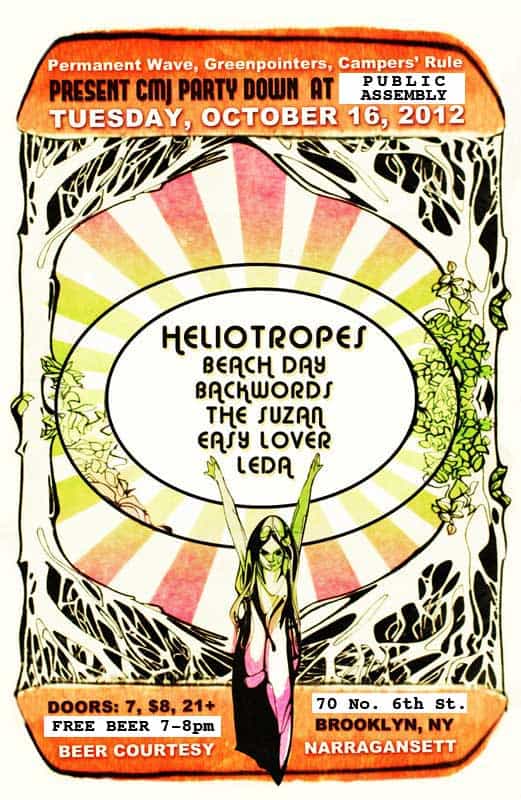 The first is on Tuesday October 16, 2012 at Public Assembly (70 No. 6th St) beginning at 7pm. Greenpointers has teamed up with Permanent Wave and Campers Rule to present:
11:15pm – Heliotropes
10:30pm – Leda
9:45pm – Beach Day
9:00pm – Backwords
8:15pm – The Suzan
7:30pm – Easy Lover
21+, $8 suggested donation open bar PLUS: beer courtesy of Narragansett!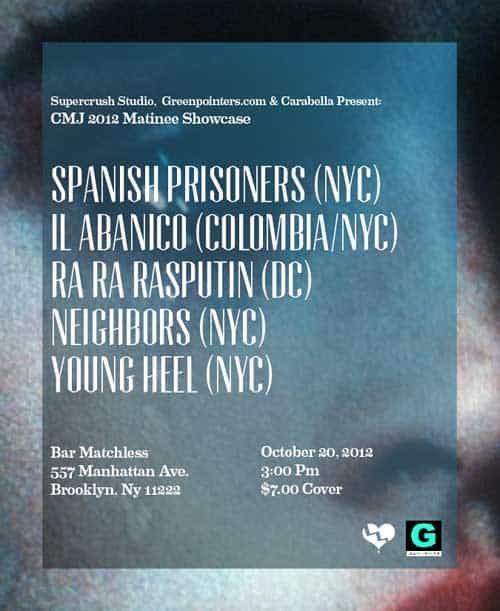 The second showcase is on Saturday October 20, 2012 at Matchless (557 Manhattan Ave) beginning at 3pm. Greenpointers has teamed up with Supercrush Studio and Carabella Present to present:
5:45pm – Spanish Prisoners (NYC)
5:00pm – Neighbors (NYC)
4:20pm – Ra Ra Rasputin (DC)
3:40pm – Il Abanico (Colombia/NYC)
3:00pm – Young Heel (NYC)
$7