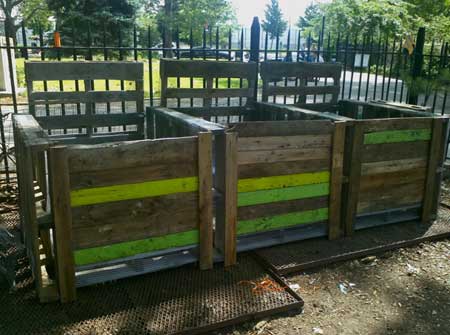 Composting is one of those things I really wanted to try this summer, and just didn't. My boyfriend is sort of a neat freak, and I was worried the rumored smell and bucket of hot garbage on the balcony would put him over the edge. I was also concerned about the space it might take up – you know, Brooklyn-sized apartment and everything. Of course all of my concerns could have been assuaged with just a little more research. As it turns out, composting is pretty clean, easy, and compact after all.
I recently interviewed Kate Zidar, of  The North Brooklyn Compost Project (NBCP) to find out the whys and hows of composting in our neighborhood. Founded in 2004, the NBCP is a community-based effort that seeks to reduce the amount of waste that ends up in the landfill, as well as improves the soil used in backyards and container gardens around Brooklyn. They are a super organization, and as you will find out, they have a ton of information that will calm your (and my boyfriend's) worries about composting.
Greenpointers: How does someone start composting?
NBCP: If you have any access to backyard space, starting a pile is easy. You just need a source of "browns" (brown, dry, carbon rich material like shredded newspaper or saw dust)  to layer on top of your "greens" (fresh scraps from the kitchen).  The leaf fall in October is a perfect opportunity to stock pile browns.  To get going, I would recommend a workshop with the city – they are FREE!
COMPOSTING WORKSHOPS
Saturday 8/25: Urban Food Waste Workshop @ 3rd Ward (195 Morgan Ave) 10am-1pm, More info
Thursday 8/30: North Brooklyn Compost Project Workshop – email Kate at [email protected] for more info
If you don't have any backyard space to use, you can save up your scraps in the freezer and bring them to certain Greenmarkets.
Check out times and locations here: http://www.grownyc.org/compost