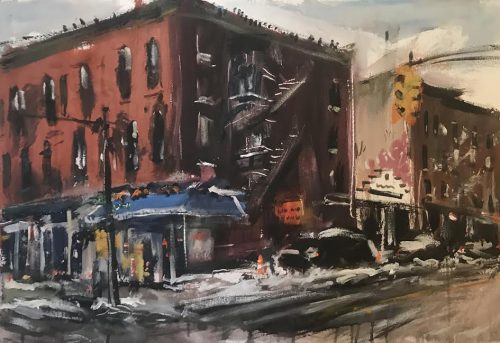 Steve Wasterval 
isn't from here, but you may be led to believe otherwise given the authenticity and love behind each of his New York paintings. In a culture where the definition of art can often seem haughty, where the medium itself is ever-shifting, there is something beautifully traditional and startlingly contemporary about Steve's acrylic paintings: They simultaneously represent impressionism from the days of yore while also reflecting the evolving city he adores and inhabits. Steve is participating in
Greenpoint Open Studios
June 2–3, so if you long to see his paintings in person after reading his interview, you'll soon have the chance!
Greenpointers: On your site you say you make art for "real" New Yorkers.  Are you a real New Yorker?
Steve Wasterval: I do say that — and no I am not. Unfortunately, I'm from Texas so I am one of those people that moved from the south or midwest and are forever trying to earn our local status. My wife is from here though, and so is her family (her grandparents were born and raised in Greenpoint on Berry Street) so I'd like to think I'm native by marriage. Plus nobody can top me when it comes to love for the city! You may think you love her more cause you're a Yankees fan, or know where to get the best slice or whatever, but I paint her everyday. She's all mine in that way, no one loves her the way I do.