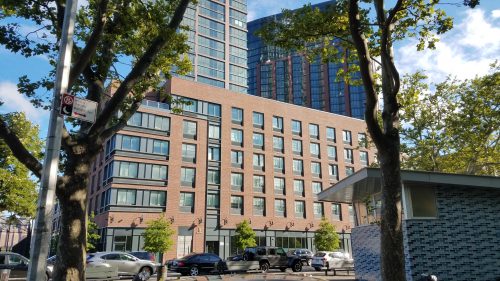 The latest affordable housing lottery that is soon to open in Greenpoint is at the 22-acre Greenpoint Landing mega-development. 235 apartments are up for grabs between the One Blue Slip and Two Blue Slip towers, which were developed by Brookfield Properties, ranging in price from $2,370 per month for a studio to $3,530 for a three-bedroom unit.
Catered to middle-income applicants, rent stabalized apartments are available for households of one to seven people with combined annual incomes of $81,258 – $183,300.

Greenpoint Landing will have approximately 5,500 total apartments and 11 towers once completed. Two Tetris-like buildings resembling a ziggurat and its inverse are under construction at the development with 745 apartments and a 2.5 acre waterfront park planned.
The the first commercial tenant, Eleva Coffee, opened on the ground-floor of 7 Bell Slip in December and the 24-hour grocery store Riverside Market plans to open in the same building this fall.