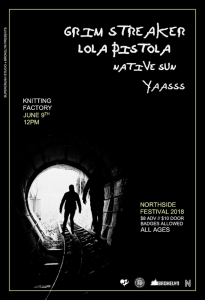 Saturday @The Knitting Factory (361 Metropolitan Ave) Brokelyn teams up with Supercrush Studio to present an official Northside Festival Showcase! With Grim Streaker, Native Sun, Lola Pistola, and Yaasss is a line up that brings a range of music from noise meets skate goth, loud and melodic indie rock, dream pop and alt-grunge, to kinky glam psych rock. It's a matinee show so start your day early with a kick ass show!
Doors open at 12 noon. Enter here for FREE tickets!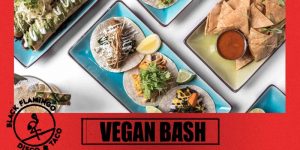 WEDNESDAY 6/6
♫ Northside Festival @ North Brooklyn, 10am, Badges $75+ and prices vary to individual shows, Northside kicks off its 10th anniversary with shows and events all weekend. Buy Tix
♫ Computer Magic, Exhibition (DJ Sets) @ Elsewhere Rooftop (599 Johnson Ave.), 5pm, FREE, part of Summer happy hour, featuring sunshine and slushies, RSVP
♫# Vegan Bash @ Black Flamingo (168 Borinquen Pl), 6pm, FREE, Vegan vendors, live performances, and music, More Info
♫ The Murder Junkies,Chesty Malone&The Slice Em Ups,Skum City+MORE @ El Cortez (17 Ingraham St.), 7:00pm, $13, Buy Tix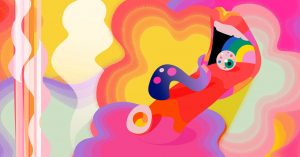 THURSDAY 6/7
♦ Workspace Exhibition Opening: Shawna X, @ A/D/O (29 Norman Avenue), 7pm, FREE, large-scale sculpture work by artist and visual designer Shawna X in her new series "F*** Your Manners," RSVP
♫ Palto Flats / Galtta – Northside Fest BJTV /Lauds /Scott Kiernan @ Magick City (37 Box St.), 8pm, $10, Buy Tix
♦ Aimee Plauche & Performers present: she sang like she was crying @ Tiskelion Arts (106 Calyer St.), 8pm, $20, A raucous dance experience seeking to capture the space in which joy and grief coexist and challenge the social permissions restricting the presentation of women and female people, Buy Tix
♦ Filmmakers After-Party @ Loosie Rouge (91 S. 6th), 10pm, FREE, Hosted by Brooklyn Film Festival and Brooklyn Filmmakers Collective, More Info
Continue reading →
Category:

Events, Uncategorized, What's Happening?
Tags:

A/D/O, apple store, black flamingo, Bosa Nova Civic Club, brooklyn bazaar, Brooklyn Expo Center, Brooklyn Steel, Calibox Lounge, El Cortez, elsewhere, flux factory, Jupiter Discp, Loosie Rouge, lot radio, Magick City, Northside, Our Wicked Lady, pine box rock shop, Rough Trade, Secret Project Robot, space ninety eight, st.vitus, The Good Room, The Park Church Co-op, Triskelion Arts
0 Comments