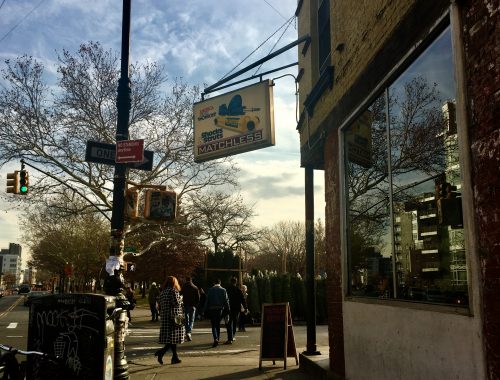 During the past year, there have been whispers that a Greenpoint institution would be closing. When Park Luncheonette closed its doors, those of us who'd heard the rumors held our breath, hoping that it wouldn't be true. But the future of Bar Matchless does not look good. As far as we know, the building is in the process of being sold with the bar's lease being up at the beginning of the new year. It is possible that they will keep the Bar Matchless dream alive by relocating. We've reached out to Bar Matchless for a comment, but have yet to hear back.
12/13 Update: We've heard back from Bar Matchless and the rumors are true. The building has been sold.
Further down Manhattan Avenue, Fresh Stop (975 Manhattan Ave) is closing its doors this week, ending another option for fresh produce north of India Street. It's an "everything must go" situation as the building is being razed.
Over in Williamsburg, we have another closing though this is not as traumatic. Claus Meyer, one of the Scandinavian chefs behind Norman in A/D/O, has closed his Williamsburg bakery, Meyers Bageri. The bakery was located at 667 Driggs Ave, in the former Margot Patisserie space. Meyers Bageri will be available for private events though and Meyer can now focus on his upcoming Williamsburg project with Mads Refslund. Continue reading →