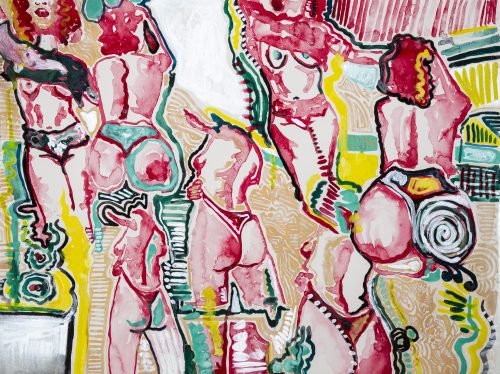 After getting laid off from her job as a sommelier at a Manhattan restaurant as a result of the coronavirus pandemic, Greenpoint resident Amanda Geller turned to her paint brush set and began working on a series of nude paintings of her friends.
"It started out as a joke when I asked my friends in a group chat if they wanted to 'send me their nudes' for me to paint," Geller said. "Now after five days I have had around 30 people send their pictures — some that I don't even know."
Prior to mass social distancing and the closure of non-essential businesses, Geller attended weekly figure drawing classes in the neighborhood. "I have received a lot of awesome feedback so far and have had the amazing opportunity to paint women of so many different body types," she said, adding that she extends the invitation to the greater Greenpoint area.
Many of the women she has painted also work in the hospitality industry and have recently been laid off. "After the quarantine is over I plan to launch an online gallery showing and donate a portion of the proceeds to women in hospitality who have lost work due to the shutdown," Geller said.
"Mostly the project is something fun during these crazy times that celebrates women and all types of beauty. A woman takes a nude when she is feeling sexy and fucking awesome and I love capturing that in a piece of art that they can show off and feel good about themselves."
Read more of Greenpointers' interview with the sommelier-turned-painter: Continue reading →