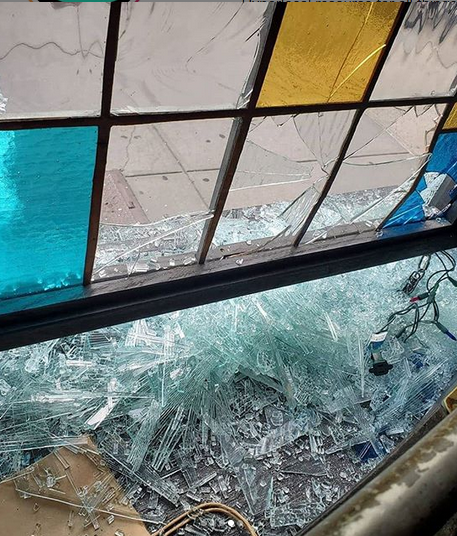 A string of businesses on Nassau and Norman Avenues in Greenpoint have experienced break-ins and vandalism during the past week.
On Thursday morning at 2:05 a.m. an unidentified man wearing gloves and a round hat was caught on surveillance video using a brick to smash open the Norman Avenue entrance of Bagel Point (699 Manhattan Ave.), gaining entry and emptying the cafe's register that was holding less than $100.
View this post on Instagram
The burglar, who appeared in video footage to have knives strapped to his calves, attempted to destroy Bagel Point's video surveillance system while rummaging for valuables and damaged audio equipment in the process, according to owner Sam Kaplan.
40 minutes later, a man fitting the same description smashed the entrance of the Greenpoint Palace (206 Nassau Ave.) with a brick, destroying the neighborhood bar's recently restored stained glass while failing to gain entrance.