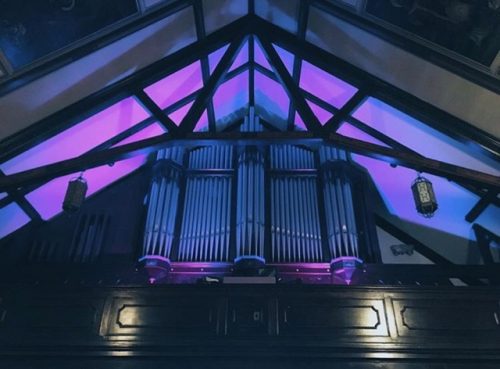 Since the introduction of its first archetype, the modern "art gallery" continues to evolve into many different forms today—as artists can be found showcasing their work in more intimate settings outside the institutional format of endless rooms and luminous ceilings.
During Greenpoint Open Studios (June 3-4), one can easily come across several types of art in unusual places; like an ambient soundscape from The Lot Radio (17 Nassau Ave) at the San Damiano Mission, where you can expect to hear a range of midi sound loops through its historic 700-pipe organ. Since its opening a little over a year ago, The Lot Radio has held several events within the church to raise money towards the pipe organ's renovation. The program during GOS will be performed by composer and DJ Noah Prebish, who plays in the band Psymon Spine when he's not at The Lot.
"Throughout the day, we'll have different sized loops playing that will work similarly to a Steve Reich tape loop, so no sound will repeat exactly the same," explains Noah. "When you walk into the church, each loop is going to sound a bit different. This will kind of showcase the abilities of the organ, which can be played really fast or really slow, or with several different tempos at once." Prebish will also be accompanied by local musicians like Bryan Ujueta of Mr. Twin Sister and others, who will improvise with instruments over the loops.
Be sure to catch Noah's soundscape piece at the church (85 North 15th Street) and scope out some of the other types of unexpected art you can find in the neighborhood after the jump. Continue reading →