6 Record Stores to Visit This Black Friday for Record Store Day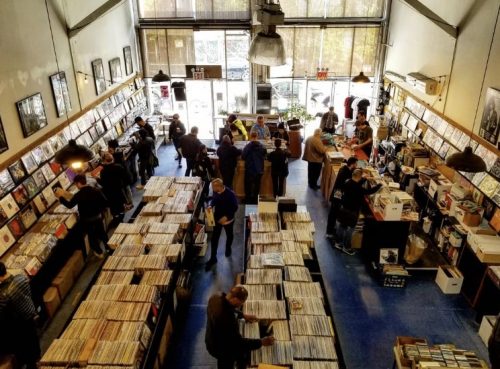 If you're like most people, Black Friday conjures up images of big box stores and insane deals on TVs and appliances. If you're like me, you'd rather go recording shopping.
Luckily, Record Store Day's Black Friday edition is being held for the 10th year in a row, and there's no shortage of quality record shops in Greenpoint for you to visit while you struggle to break free from your turkey-fueled food coma.
Academy Records Annex
The Brooklyn outpost of Manhattan's storied Academy Records, Academy Records Annex (85 Oak St.) will be open this Black Friday. Maintaining their regular 12 to 8pm hours, Academy will be carrying most of the special Record Store Day releases.
Captured Tracks
The physical outpost of the Brooklyn-based record label of the same name, Captured Tracks (195 Calyer St.) will be open during their regular hours, 12 to 8pm, on Black Friday. While they are not participating in Record Store Day, they keep a healthy collection of new and used albums and, uniquely, cassettes.
Record Grouch
The compact Record Grouch (986 Manhattan Ave.), has long been a neighborhood favorite. Despite the close quarters, they stock an impressive array of new, used, and obscure vinyl. This Black Friday they will be open during their regular hours, 12 to 8pm, and will be stocking a limited collection of special releases.
The Thing
View this post on Instagram
While The Thing (1001 Manhattan Ave.) is technically a thrift store, it focuses heavily on used records — their basement is packed with untold thousands of albums. Because they're a strictly secondhand shop they will not be carrying any of the Record Store Day Black Friday specials, but if getting your hands dirty in search of rare, hidden gems is more your jam anyway, The Thing is for you; visit during regular hours, 10am to 7pm.
That does it for shops at home in Greenpoint. However, if you're willing to travel just a teensy bit into our neighbor to the south, you'll find a few more quality record shops to explore.
Rough Trade
View this post on Instagram
Rough Trade (64 North 9th St.)is the largest of the stores on this list and also your best bet if you're looking for a wide array of Record Store Day releases — they routinely stock as many Record Store Day release titles as possible. No guarantees, though, as there will be a line and titles will sell out. Rough Trade will open early, at 10am, for Black Friday.
Earwax Records
Earwax Records (167 9th St.) is just a few blocks west from Rough Trade. A smaller shop, they can't stock the full Record Store Day lineup but they will be curating a selection of the special releases. As an added bonus, if you're looking to update your audio gear, Earwax is the shop for you — they constantly rotate in new vintage audio equipment. You'll find them open this Friday from 11:30am to 7:30pm.